Fine Arts with the Finegolds gives Chatham students the chance to experience performances in Pittsburgh
On Nov. 16, following Chatham's annual Harvest Dinner, students boarded a shuttle and traveled to the Benedum Center as a part of Fine Arts with the Finegolds. The tradition led by Dr. David Finegold and Sue Finegold has allowed students to attend live theater performances and other fine arts events throughout Pittsburgh at little or no cost. 
During the last outing, the group watched the national tour of "Hadestown," a Broadway musical that retells the Greek tragedy of Orpheus and Eurydice. Spirits were high throughout the evening, with students reporting that they enjoyed the event.
"The Fine Arts with the Finegolds event has been something I look forward to every semester," said Sara Bouch '25. She said that she appreciates the chance to go enjoy these shows for free. 
Ethan Kelley '25 echoed Bouch's sentiments, saying how much they enjoyed the show. 
"It changes the way that I look at musicals. Immediately upon beginning the show, the actors interacted with the crowd, and I really like that," they said.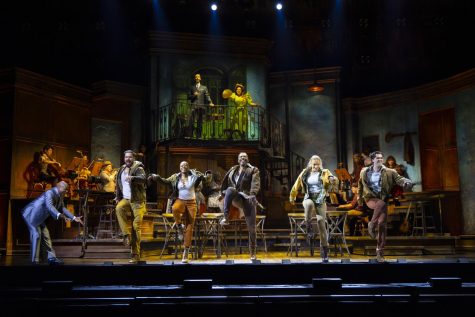 Another highlight was how much freedom students were given to enjoy their night. 
"It wasn't something that we had to stay in a steady group the whole time. We got our tickets and were let loose at the doors" said Kelley. 
Students were able to explore the Benedum Center before the show and during intermission, allotting time to take pictures or buy concessions in the lobby.
Despite students' overall enjoyment of the event, some students expressed confusion over the Finegolds' involvement in the evening. 
Sarah Baker '25 said that she did not see either of the Finegolds throughout the evening, making the title "a bit confusing," especially at an event presumably designed to show their support of the fine arts. 
Sue Finegold was in attendance while President Finegold was traveling during the event. 
Apart from any confusion, students still associate these events with the current presidential couple and hope that Chatham University's new president will continue this kind of tradition after the Finegolds move on at the end of the spring 2023 term. 
"I hope that the departure of the Finegolds doesn't signify the end of this event," said Bouch. 
Kelley agreed, noting that they would also love to see similar events that allow students to access the visual and performing arts scene in Pittsburgh. 
They added, "I had so much fun and think that it is a great way to dress up fancy with your friends for a free night out on the town."