Waiting for Intermission: Review of "A Royal Affair"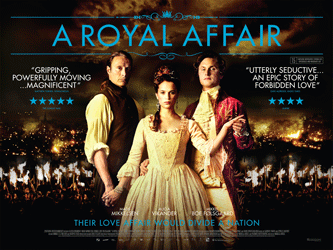 There's a theme of dishonest love that attracts people to side with it, for what we can't have, we find the most attractive. The film, "A Royal Affair" is no different.
Set in eighteenth century Denmark, the film focuses on the scandalous affair of Johann Friedrich (Mads Mikkelsen) and Caroline Matilda of Great Britain (Alicia Vikander). For Caroline, this secret tenderness is deeper than an escape from a neglected, abusive marriage; it is a chance to be free. The film is based on the erotic novel, "Prinsesse af blodet" written by Bodil Steensen-Leth.
Upon an arranged marriage to the mentally ill King Christian VII of Denmark (Mikkel Folsgaard), Caroline's dream of an adventurous life is disregarded, starting with the removal of her prized books which were banned by state law.
King Christian begins to torment Caroline, even from the first night of her arrival in Denmark. He fires her lady-in-waiting but not without smashing snow in her face, calling her 'a useless fat cow.' Why? The Queen kept wishing him away from her chambers while she was pregnant with their first son.
Caroline begins to accept her dismal fate, losing hope for the life of freedom she visualized. However, when Christian hires a German royal physician, Johann Friedrich, her life begins a new hopeful chapter.
When I began watching, I didn't expect more than a scandalous love affair of the rich and powerful. Yet, as the film continued, I noticed the camera began to focus on the corrupt politics of the court in eighteenth century Denmark under King Christian's rule.
With no background in History or in Political Science, I began to play detective on the events during his reign. The in-depth detective work meaning I googled King Christian VII of Denmark. King Christian VII did have a mental illness that had an effect on government decisions.
The film portrayed his mental illness as if the King were a small, rambunctious child whom adults put up with but never took seriously.  But in the terms of his real life history Christian had an illness that would lead him into hysterics and hallucinations that made him physically ill, as well as mentally unstable. He would physically abuse his advisers as well as his grief-stricken 15-year-old Queen, Caroline. He took pleasure in the misery of others and loved to torment the members of his court for his own personal amusement.
Normally, my opinion of romantic films, such as "A Royal Affair," is that there is more of a emphasis of exploiting the gossip about the rich and powerful of the time. But the history of these three historical figures kept me interested to find out what happened next with each scene.
'An English princess married to an insane King,' director Nikolaj Arcel's film captures your attention to see if a mind, once insane, can be made sane, or if healing hands will be corrupted by power and influence, all in the name of love.
3/5