Track and field looks to build upon inaugural 2012-2013 season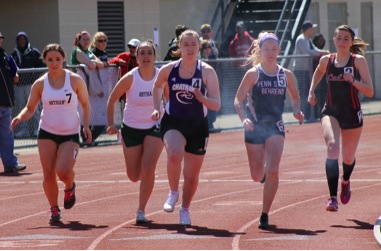 In February 2013, the Chatham University athletics program added track and field as its ninth varsity team, marking 2013 as the Cougar's first ever season of competition.
Chatham hired head coach David Hodge in February 2011, and Hodge was given until November of that year to form the university's first ever NCAA track and field squad. Hodge mainly recruited through on-campus flyers, word-of mouth and by reaching out to other campus teams.
"It was tough, starting in February, when the recruiting time-frame was well past," Hodge said. "We recruited a lot from other sports because their physical abilities translate to track and field well."
The eight-player squad competed in the President's Athletic Conference (PAC) against opponents whose rosters average 25-30 players. With more players available to place in events, larger teams have the potential for higher overall scores in the meet.
While being a small team has disadvantages, many players enjoyed the camaraderie of a close-knit group. "My favorite part about being


on the track and field team is that since there were so few of us, we are kind of really close," said Kaitlynn Smith, a senior javelin thrower who is also a member of the Chatham hockey team.
The Cougars competed in a total of two indoor and six outdoor meets, with notable finishes at the W&J Invitational (9th place) and the PAC South Meet (4th place). "Most of us did pretty well for not doing track and field for a long time," Smith said.
In preparation for the coming season, Hodge encourages prospective track and field athletes to come out and try the events. "Track and field is a sport that honestly a lot of people can do because there are so many events. You can sprint, jump or throw,"
Hodge said. The team generally practices Monday through Friday, with most meets on Saturdays. For those worried about the time commitment of joining track and field, the season lasts approximately two and a half months. The Cougars kick off the 2014 season on February 8th at the University of
Mount Union Jim Wuske Invitational.