Women's Soccer Continues Strong League Play
By: Jack Ridenour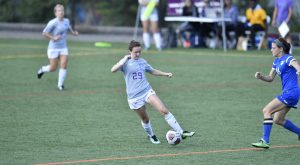 The Women's Soccer team has continued to play well throughout their tough conference schedule. The team played Bethany College, Washington and Jefferson University, Thomas Moore College, and Waynesburg University, going 2-2 in each of the four games.
Against Bethany College, the ladies dominated the game, outshooting the Bisons 19-4. After a scoreless first half from both teams, Julie Bruening '19 scored the only goal of the game in the 71st minute, to win the game 1-0. Katie Sieg '19 and Tina Lett '20 each had three shots on goal, only trailing Bruening's five.
The team then traveled to Washington Jefferson to take on the Presidents. The Cougars faced a tough competitor, as the Presidents didn't let them get off one shot on goal. Trailing 2-0 at the half, the Cougars were unable to get anything going in the second half, as they fell to the Presidents 5-0.
They next traveled to Kentucky to take on the number one team in the conference Thomas Moore. The ladies fought hard with the Saints, as they went into the half only trailing them 1-0. They were unable to respond in the second half as they lost to Thomas Moore 3-0.
After two losses in a row, the team looked to redeem themselves with a home matchup against the Yellow Jackets of Waynesburg University. The Cougars started the game by controlling most of the tempo throughout the first half. Kat Luteri '19 scored the first goal of the game in the 30th minute, and later in the half Victoria Vernail '20 added a goal of her own in the 41st minute on a penalty kick. The Yellow Jackets could not come back in the second half, as the Cougars won by a score of 2-0.
The team has been fighting through some injuries as of late. Their reserves have been able to step up, which shows the depth that the team has coming off the bench. "We have had a lot of injuries this year but the bench is doing a great job filling in shoes and stepping up in big games," Katie Sieg said on how big the bench has been for the team. "Different people start every game so having that depth in the bench is really helping our team." she said.
"I think the biggest thing for us right now is to stay healthy. The season is long and we need to keep our bodies healthy to perform at our best," she said of what they need to do to make a deep run into the playoffs. As the season ends, the team's health is a big priority for them. With the team healthy, they could very well have a strong finish to the season, and carry that momentum into the post season.