Getting around on public transportation
---
By Molly Hunter
Pittsburgh's Port Authority bus system is a way to get around the city — and it's free to Chatham University students with their school ID cards.
But many students have varying opinions about the city's bus system. It's not always easy to figure out which route goes where. To help, here are some tips for navigating common bus routes near campus.
71D bus route
On a recent Friday afternoon, I took this bus to PPG Paints Arena in Uptown. I departed Chatham's campus at 2:20 p.m. and walked five minutes to the stop at Fifth and Maryland avenues. I arrived at my destination at 2:51 p.m.
Use your phone for help finding a bus stop or a schedule. For those with iPhones, type into Apple Maps the location of where you'd like to go and it will provide instructions for how to get there. For example, I typed in "PPG Paints Arena" and selected the "transport" option. The map showed me walking directions to the proper bus stop, as well as the name of the stop where I needed to exit the bus.
The most stressful part of the journey was not knowing where I was along the route. Some Port Authority busses will flash the location of the next stop on a screen or announce it aloud, but the bus I was on did neither. Thankfully, Apple Maps does label the stops along the way, so riders can follow along on their phones.
Another popular public transportation aid is the free app Moovit. Unlike Apple Maps, Moovit tells what time the bus is coming, as well as how often. For example, if you're looking to take the 71D bus into Oakland, Moovit shows that there is a bus departing in four minutes, 10 minutes, 12 minutes, etc.
The Port Authority website at www.portauthority.org also provides information about bus routes and schedules.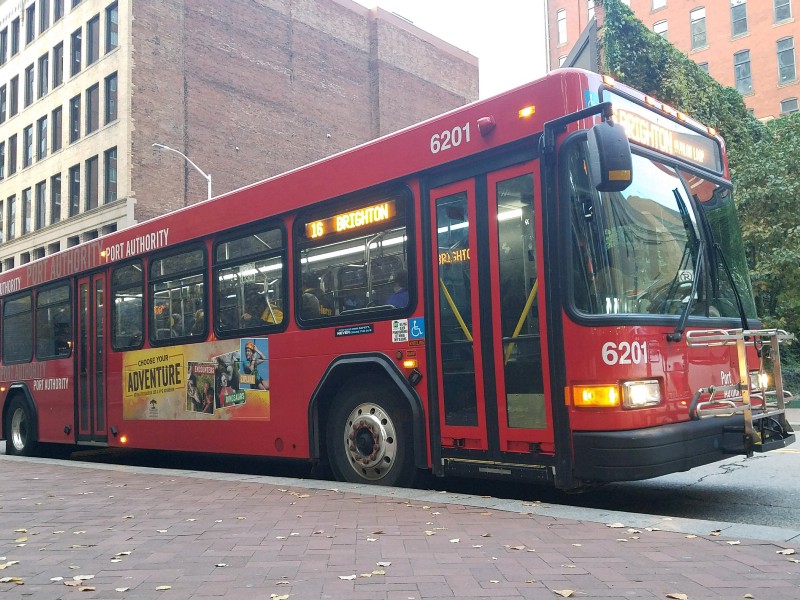 71B bus route
Another common destination for students is Target in East Liberty. It is a 20-minute ride from Fifth Avenue and College Street on the outbound 71B bus. Upon arriving, exit the bus at Highland and Penn avenues.
"Just be aware of your surroundings," said first-year student Sophie D'Ambrosio, who takes this trip often. "It's very easy to get off at the wrong stop. … Definitely utilize the public transportation apps."
With practice, though, getting around the city gets easier.
"Once you take your first bus trip, it's pretty easy to get the hang of the bus systems," first-year student Katie Montgomery said. "The apps are a really big help."
Don't forget the shuttle
With their University ID cards, Chatham students can take the University of Pittsburgh shuttle bus. There's also a Chatham shuttle available for students. Learn more at www.chatham.edu/academics/international/current/transportation.cfm. Track the location of the Chatham shuttle in real time at www.chathamshuttles.com.
For information about the University of Pittsburgh shuttle, visit www.chatham.edu/campus-life/services/transportation/shuttle.cfm.