Things to do: Observing the nation in An-My Lê's 'On Contested Terrain'
An art review on An-My Lê's "On Contested Terrain" exhibit.
An-My Lê's "On Contested Terrain" is a comprehensive exhibition currently showing at the Carnegie Museum of Art. Across her work, the Vietnamese-born photographer investigates her interest in conflict, human relationships and history. 
 "On Contested Terrain" is showing in Oakland until Jan. 18, 2021. Chatham University students can see this exhibit for free with their student ID.
To Lê, the most powerful aspect of photography is the access it gives her to explore other communities, other worlds and other stories she finds fascinating. "Vietnam," "Small Wars," "29 Palms," "Events Ashore" and "Silent General" are just a few of the artist's collections presented in the show. 
The first area of the exhibition showcases Lê's "Vietnam" series. The photos were taken in a four-year span, beginning in 1994 with Lê's first trip back to her birthplace. The monochromatic landscapes are captivating, full of quintessential aspects of life across Vietnam. They depict how the nation was starting to be shaped by Western influence. 
The photos in this early collection demonstrate Lê's unique capacity to capture a moment in time that would seem chaotic outside of her camera. Her studies on conflict are, as noted in the gallery description, not like those of most other photojournalists. Lê seems more interested in the people behind the fighting and the many stories a landscape holds. 
Moving into the main gallery space, the viewer is introduced to Lê's current project. "Silent General" is an ongoing exploration that began in 2015 with Lê's documentation of Confederate soldier statues being taken down across the United States. In this collection, she investigates how conflict — particularly political conflict in this case — is reflected in a landscape. 
From Mexico to Louisiana and New York, Lê is curious about the extent to which ideological conflict marks physical spaces. While the photos in the collection are meant to document moments in recent history, Lê also uses them to comment on what it felt like — and what it still feels like — to live in America during an obvious evolution.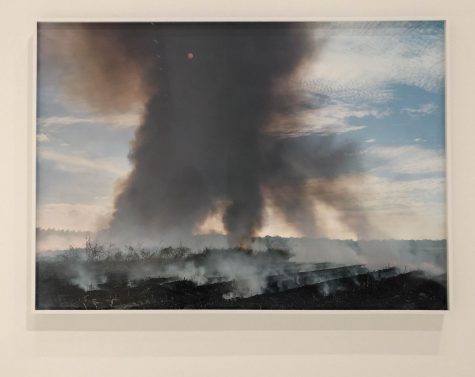 Gray smoke blocks out a blue sky as a field burns in the midday sun in "Fragment I: Sugar Cane Field, November 5, Houma, Louisiana," taken in 2016. Here, Lê draws a parallel between the destruction of the burning field and the turmoil the nation faced that year. 
In many ways, the piece is unsettling. The smoke reduces the sun to a faint orb, and the field has been made barren. Although the fire might have been set intentionally, it is now running its own course — much like U.S. and international politics the past four years. We the viewers are left thinking about the ways in which natural systems are reflective of our constructed societies and what we are collectively going through.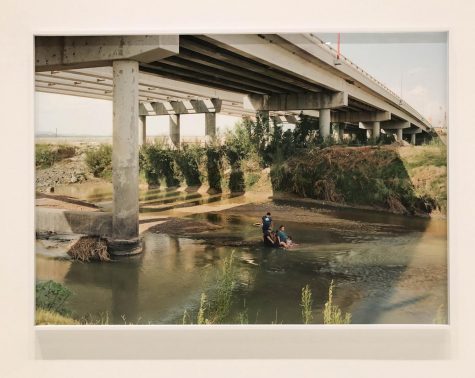 Additionally, a part of the "Silent General" series, "Fragment IV: Family under the Presidio-Ojinaga International Bridge, Rio Grande, Texas-Mexico Border," shows a family sitting together in the Rio Grande underneath a highway overpass. The state of immigration, particularly across the Texas-Mexico border, was a huge source of debate during the 2016 presidential election. Since then, the southern border has been the site of great stress, namely the horrific ICE detention centers. 
As in much of her work, Lê does not comment directly on this source of contention but instead offers a picture of serenity against the contextual backdrop of strife. We wonder if the family in the photo is thinking about its position in the world: caught between two lands and two nations that are not much different, yet trapped in political issues. 
Lê consistently leaves us thinking about the intrapersonal conflict going on inside individuals she photographs, as well as the external conflicts they're unwillingly a part of. Her expertise in technical composition and her grasp on subject matter give birth to work that's mesmerizing aesthetically and conceptually. 
I feel I am not alone in saying that there have been countless times these past four years where I wished to step back, to zoom out and see the world as an outsider. Lê's photographs allow us to do this. Stepping into the spacious, quiet gallery space felt surprisingly reflective of Lê's approach to her craft — that is, becoming an observer of life.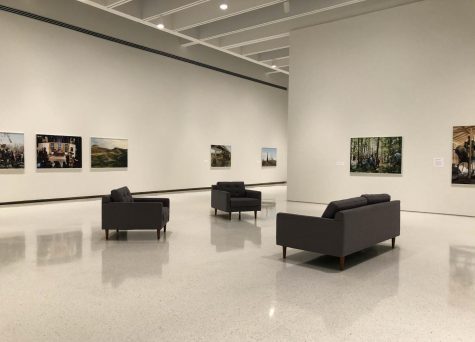 A gray sofa and two matching armchairs stand in the middle of the largest area surrounded by Lê's color photographs. I imagined this setup welcoming visitors to sit down and become a part of the work. We are asked how it feels to live in the world that Lê is photographing — a world of serious, consuming conflict but also of gorgeous, moving human stories and souls.
For those looking to reflect on current life in America and elsewhere, "On Contested Terrain" is a must-see. For more information, or to tour the gallery virtually, visit https://cmoa.org/exhibition/an-my-le/. 
View Comments (1)
About the Contributor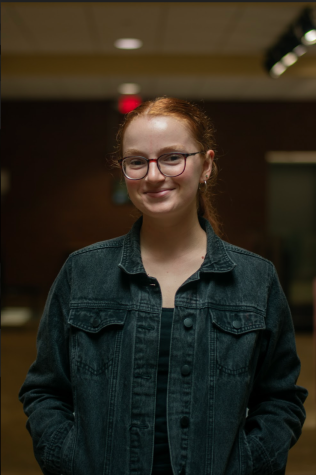 Charlotte Larson, Lifestyle Editor
Charlotte Larson '24 is a Sustainability: Food Systems major minoring in Spanish. Coming from Chicago, she came to Chatham in search of fellow students...