Spike in COVID-19 cases prompts Chatham to raise alert level, temporarily shift to virtual learning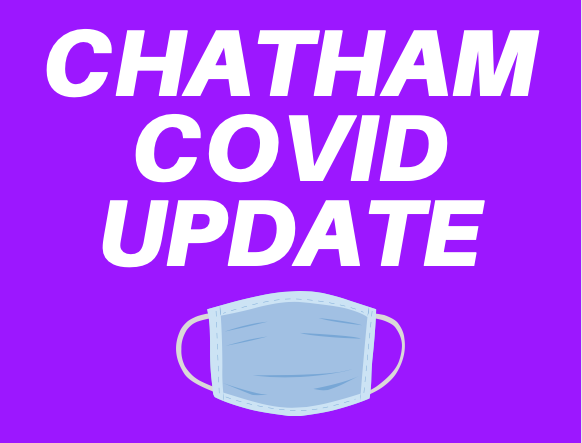 Chatham University has elevated its operational alert level for COVID-19 from "raised" to "high" and will temporarily shift to virtual learning for undergraduate students, the administration announced in an email sent Friday afternoon. 
This alert shift and email update were prompted by a recent increase in positive COVID-19 cases on campus. Earlier in the semester, Chatham began randomly selecting students to test for the novel coronavirus, beginning with student-athletes. Testing of Resident Assistants (RAs), Graduate Resident Directors (GRDs) and student residents are slated to follow. 
As of Oct. 16, there have been 41 positive cases of COVID-19, 22 of whom are residential students and 19 are commuters. Fifty-three isolation or quarantine spaces are in use. The campus dashboard shows that 761 on-campus tests have been completed. Twenty-three tests have been taken elsewhere and reported to the University.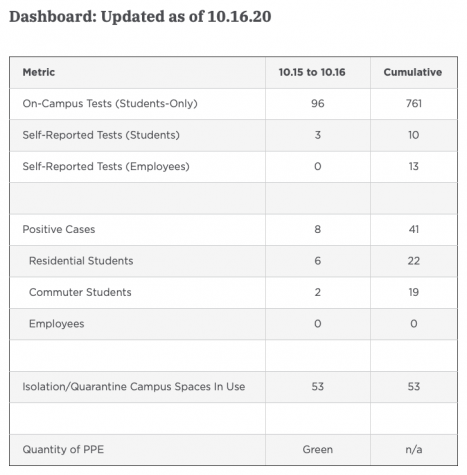 At the beginning of October, Chatham's COVID-19 positivity rate (or the number of tests compared to the number of positive cases) was 3.1%. Between Oct. 3 and 9, 191 tests were conducted, but only six students tested positive. This past week, the positivity rate reached 15.8%. Out of 196 tests conducted from Oct. 10 through 16, 31 came back positive.
The shift to a "high" operational alert level signals a significant change in campus operations for the coming week. The administration said in the email that these changes are aimed at slowing the spread of COVID-19 to "reverse this trend." 
The following changes went into effect 5 p.m. Oct. 16 and will continue through Oct. 25. 
 Academics
All in-person undergraduate classes taking place on Chatham's three campuses (Shadyside, Eastside and Eden Hall) will shift to virtual delivery. Students should expect more information from their program directors, department chairs or deans if it is needed, the email explained. 
Graduate classes can continue to be held in-person, depending upon the decision of the specific department or program director.  
Residential Students 
"Residential housing on Shadyside campus and Eden Hall campus is being moved to a limited activity protocol," the administration explained via email. This means students should limit themselves to only essential activities outside of their on-campus residence building, such as picking up meals, visiting the grocery store or pharmacy, receiving medical attention or going for a walk. 
Students will be prohibited from visiting other students in their dorms. COVID-19 sample testing of residential groups will be occurring in the coming week, and residential students will be receiving more information from the Office of Residence Life.
Campus activities and operations 
Most campus facilities will either be closing or moving to a predominantly virtual alternative. The tent and Café Rachel will be closed, while all dining locations on campus will be offering to-go orders. 
Both the Athletic & Fitness Center (AFC) and Jennie King Mellon Library will be closed, except for the 24-hour computer lab, which can still be accessed with an ID card swipe. Shuttle services between Chatham's three campuses also will suspend operations. 
The Helpdesk will remain open for virtual or in-person appointments. As for other departments, students are encouraged to check individually for any changes to specific services in the upcoming week. 
Lastly, undergraduate students with on-campus jobs, an internship or an off-campus job should "shift to remote work if possible," according to the email.
Employees 
While there are no current positive cases of COVID-19 among Chatham's employees, only essential campus service employees should report to work in person. Otherwise, telework for the next week is encouraged but is the decision of each department. 
Looking ahead 
To conclude the email, the Chatham administration reiterated a list of COVID-19 precautions. Administrators acknowledged the sacrifice and responsibility members of Chatham will be taking on for the next week "to support the health of our community." 
They are hopeful these actions will be enough to "bend this curve back down to the low positivity rates we saw throughout the semester," the email said. 
More information on the different alert levels can be found on Chatham's website. The campus dashboard is updated each Tuesday and Thursday with the latest testing data.
Leave a Comment
About the Contributor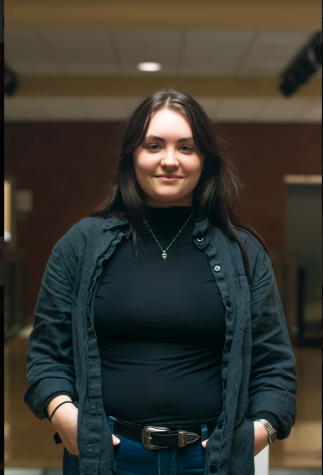 Alice Crow, Editor in Chief Emeritus
Alice Crow '23 is the Editor-in-Chief emeritus for the Communiqué and a Political Science/Economics major. Alice grew up in Pittsburgh, just a few minutes...