University survey highlights challenges of adapting to college life during COVID-19
The transition to college for first-year students is a difficult and exciting time. This year, the added challenge of a global pandemic has changed the way this transition looks.
First-year students are working to navigate classes, residence life, forming relationships, getting involved on campus and managing their workloads, all while trying to stay healthy and slow the spread of COVID-19.
A survey emailed Sept. 23 polled the student body regarding Chatham's response to the pandemic and student life this semester. The survey asked students to rate each topic on a scale out of 5.0 (with 5.0 being that the respondent strongly agrees with the statement and 1.0 being strongly disagrees). 
"I like that we can take surveys and they take our input and consider it. We have a say in how we want to progress," Emi Perdan '24 said.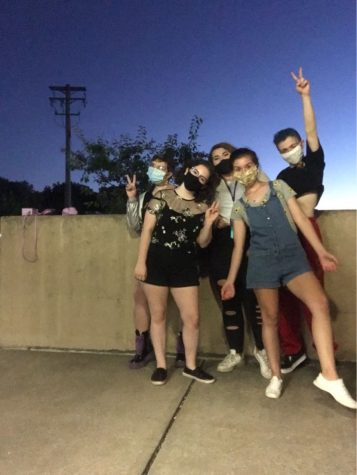 The survey polled both first-year and upperclass students, but a breakdown of the results isolates the answers of the first-year class. In total, 179 first-year students responded to the survey. Results will be used to show how they feel about this semester.
One of the major challenges of this semester is online classes. Most classes are being administered on  Zoom with students participating from their dorm rooms or homes.
"Doing classes in an isolated place is tricky," Abby Fowler '24 said. Students don't have the same opportunities that they would in a normal semester to form bonds with professors and classmates that are academically beneficial.
The survey addressed this topic with the statement: "I am comfortable in my learning environments (classroom, virtual, online)." The mean response was a 3.87 out of 5.0. 
The statement "I currently have the resources I need to complete my courses" had a 4.02 mean response.
Getting involved on campus is also a challenge for first-year students. With limited in-person meetings and events, students are struggling to find ways to participate in student organizations and events.
"Getting involved has been the most challenging. It's kind of like a scavenger hunt," Fowler said. "You get all the information at once, which is useful, but it is hard to organize what you want to do."
The survey statement "I am finding ways to engage socially at Chatham given the parameters of COVID-19" had a mean response of 3.65 out of 5.0.
First-year students worried that they wouldn't be able to make meaningful friendships and socialize in a safe and socially distanced way. Perdan said, "It's hard to form physical connection outside of social media. I am less likely to walk up to a group of people and ask to be friends, it's weird. You can't really [safely] socialize and eat at Café Rachel, for example."
Even with all of the challenges presented by the pandemic, many first-year students are having successful transitions and doing their best in the given circumstances to have an enjoyable time at Chatham. 
"It's been pretty smooth, smoother than I was expecting," Fowler said about her transition to Chatham.
Students who would like assistance in their transition can contact the counseling center or their success coaches.