Minor Bird Celebrates 91st Year at Launch Party
Editor-in-chiefs top off virtual year with open mic, wellness space
Over a Zoom screen, Abigail Kneuss '23 and  John Mamas '22 light up with a pre-pandemic enthusiasm. Kneuss points excitedly to a stack of newly assembled goodie bags. Colorful, candy-filled and possibly containing glitter, they will be parceled out at The Minor Bird launch party today, along with the newest issue of Chatham University's undergraduate literary journal. After months' worth of editorial, design and layout work, The Minor Bird staff is ready to showcase their published artists and writers. On Friday, they will continue the legacy of the literary journal by celebrating its  91st year and this issue's diverse student contributors on the quad.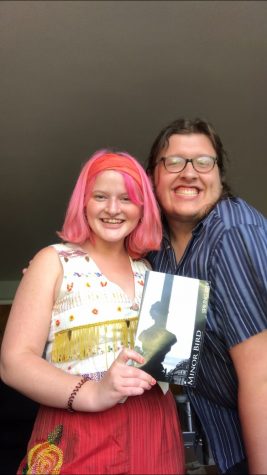 Kneuss '23 and Mamas '22 are the first concurrent editor-in-chiefs of The Minor Bird. When they took charge of the student-run publication last fall, they wanted to create a vibrant space for students across different majors while carrying on a University literary tradition.
The newest issue features art and writing by 27 Chatham students across 21 programs. 
"What makes The Minor Bird great is that it's an amalgamation of all different students and all different types of degree programs and majors," Mamas says.  
Neither Kneuss nor Mamas study creative writing. They want to dispel the myth that The Minor Bird centers around a specific major. Instead, they see the journal moving in a more collaborative, experience-based and interdisciplinary direction.
Compared to last year, the 91st issue features a considerable art presence. Staff reached out to art and design students, encouraging them to submit their work. Instead of structuring the journal through separate sections of prose, poetry and art, Kneuss and Mamas decided to "intermingle everything," juxtaposing photography, mixed media and painting with the written word. 
"Making it more dimensional is going to help bring in value to it," Kneuss says.
 This year's issue begins with lighthearted themes like happiness and love before delving into heavier topics like grief.
"We saw really honest works from people because people have had a really difficult year, and we've seen a lot of reflection of those struggles but also the triumphs," Kneuss says. 
"It tells the story of the year that our students have struggled through."
Maylyn Torpey '22, a sustainability student, is one of the student writers published in the Minor Bird this spring. Her poems "Caramelized Pears" and "The Gardener" are featured in the issue. This is Torpey's first time being published.
"I was going through a rather tumultuous time in my life when I wrote these pieces, and writing them helped me cope with what I was going through. By being published, I was able to kind of put my emotions about what happened on the backburner and feel like it could be a different chapter in my life," Torpey says.
 "I think it is beautiful to be part of a Chatham tradition. You know, my time here at Chatham is kind of cemented in history," she continues.  
Both Kneuss and Mamas envision the Minor Bird as being a space where artists and writers support one another, make connections with other students and express their creativity. The journal is essential to maintaining visibility and value within the arts and humanities, they say.
"You have to cultivate both sides of yourself. The humanities do so much for us, and I think we are moving away from valuing that," Kneuss says.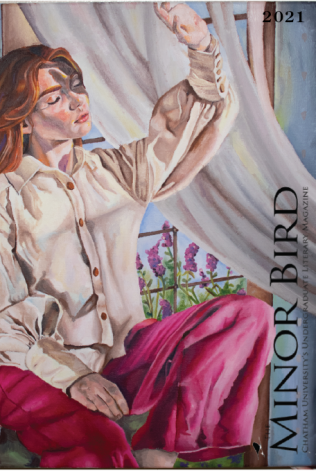 As Chatham continues to experience a cultural shift in the student body, it can feel as though the arts are neglected. Mamas and Kneuss want to revitalize the arts and writing scene on campus, especially after the COVID-19 pandemic halted in-person events. They aim to bring back events like the Rea Coffeehouse readings and collaborate with the Creative Writing Club after it becomes reactivated next fall. In the future, Mamas hopes the Minor Bird will include  community outings and retreats.
"The Chatham of the past and Chatham of the present are definitely a little different," Mamas says. "I think we need to do everything we can to get involvement and bring together people on Chatham's campus." 
At Friday's launch party, students can expect to find snacks, art and hear the work of fellow students at an open mic.
After a year of  working virtually  as a team, The Minor Bird staff will finally meet in-person. Students will have the opportunity to share their published pieces or just meet  for a "tangible art and literary community," Mamas says. 
"It's sort of celebrating the rebirth, the hope of this entire spring," Kneuss says. "It's just the coming together of creative minds."
The launch party will take place today, from 3:30 to 5 p.m. on the quad. To learn more about The Minor Bird, you can follow the club on Instagram (@minorbird_cu). 
– Due to inclement weather, the location has moved to the Carriage House. –