Cougars claim victory over Gators 2-1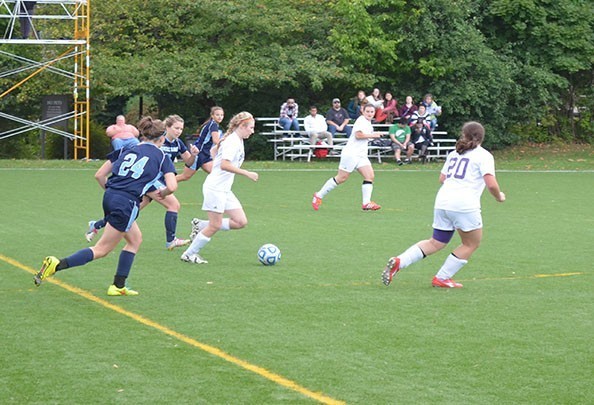 The Chatham Cougars claimed their first victory of the soccer season over the Notre Dame of Maryland Gators. The game took place on Saturday, September 13, at 12 p.m.
The Cougars were the first on the board, with first year goalkeeper Megan Sieg getting a shot past Gator goalkeeper Heather Lancellotti at about the six-minute mark in the first half. The Cougars maintained this lead throughout the first half.
Only a minute and 16 seconds into the second half of play, Gators freshman Raeden McCullough answered the goal, sending a ball past Chatham goalie Liz Sawyer, and tying the game, 1-1.
Another 13 minutes, 41 seconds later, however, Cougar's Sieg scored yet another goal, this time a penalty shot, once again on goalkeeper Lancellotti. This was the goal that ultimately won Chatham the game.
Senior goalkeeper Liz Sawyer made six of the seven shots that reached the goal.
The Cougar's top player was Sieg, who finished the game with both of Chatham's goals as well as nine shots on goal in total.
Other top players were senior midfielder Sarah Ellis, who had three shots on goal and one assist, sophomore midfielder Megan E. Cooper with one shot on goal, and junior midfielder Auralia Henderson, who also had one shot.