Scoring Chatham's housing options: upper campus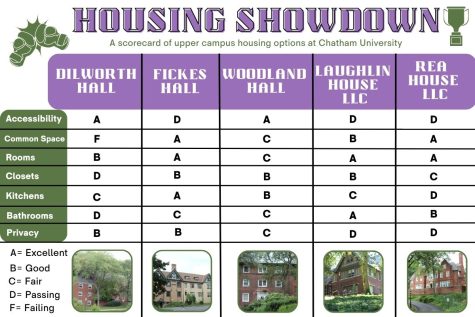 We are approaching the time when students start planning for the next academic year at Chatham University. Students can solidify roommate groups and pay their reservation fees through the housing application portal on My.Chatham until March 17. 
From Feb. 8 to March 17, Chatham's housing applications for 2023-2024. In successfully filling out this application, students will receive a specific time slot for selecting their desired housing for the next term. 
Information provided by the University for students about the specifics of each on-campus housing location is limited to short descriptions of each house, accompanied by a minute-long video tour. If you have never lived on campus before or interacted with anyone in the many unique housing options, you may feel a little lost in choosing which building to call home for the next term. 
To assist students, the Communiqué compiled a scorecard based on student feedback (including the reporter's experiences). For simplicity's sake, each upper campus residence hall was ranked on criteria believed to be most important to a Chatham student. The apartments were not included in this piece.
Current residents from the various dorms on campus provided their thoughts on the qualities they like about their residence hall and what improvements they would like to see. 
To receive an A in accessibility, a residence hall's location to other areas of the Shadyside Campus was accounted for. Dilworth is the most central dorm at Chatham. Current resident Olivia Josak, '25, said this is her favorite feature of Dilworth. 
"I can leave five minutes before any of my classes start and still make it on time. Most people can't do that." 
Woodland Hall, also pretty central on Chatham's Shadyside campus, receives an A because it is the only dorm to have an elevator. 
The rating for common spaces was determined by how many common spaces are in each residence hall. As the Living Learning Communities (LLCs) bring together groups of like-minded individuals and encourage connection, residence halls with LLCs offer better common area options compared to the larger dorms such as Fickes or Woodland. With that in mind, Fickes ranks higher than Woodland Hall due to the fact that there are four common spaces in Fickes compared to Woodland's two. 
However, a higher ranking in common areas means a dorm is going to have a lower ranking in its privacy. Privacy ratings were dictated by number of rooms and room types, common spaces and location. 
If you are looking to live in a single room in the coming year, you may want to consider choosing Fickes Hall. Woodland and Fickes Hall have the largest number of single rooms on campus. If a bigger room is what you are looking for, Fickes rooms are, on average, the largest. If aesthetics are important to you, you might want to check out Rea House. 
The bigger the room, the bigger the closet is on average. If you live in any dorm other than Dilworth, you might be lucky to get set up with a walk-in. You may just have to share closet space with your roommate if you live in a double. 
Bathroom ratings take into account the number of shared or private bathrooms in relation to the number of rooms in each house. If you decide to go with Woodland, you will likely have access to either your own private bathroom or a shared bathroom with about four other residents. 
For a dorm to be ranked excellent in its kitchen, there must be a kitchenette on every floor, and at least one of those kitchens must have an oven or a stovetop. Fickes, Laughlin and Woodland have at least a single kitchen with a stove and/or oven while Dilworth and Rea have neither. 
While most schools offer students a cookie-cutter box of a dorm room, Chatham's unique housing options offer students the ability to make a choice in a living situation best suited for them. Where you live is important; you cannot go wrong in whatever house you choose, as long as you are selecting what is best for you.
If you have any suggestions for future scoring or criteria, let us know on Instagram @Communique_CU. Stay tuned to learn more about the lower campus apartments and Orchard Hall.