Andrew Garcia named first men's basketball coach in Chatham University history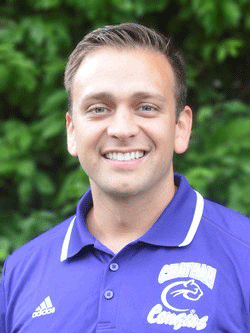 In the wake of President Barazzone and the Chatham University Board of Trustees' decision to transition Chatham to a coed institution in fall of 2015, current students can expect to see significant changes in the current state of the university. One of the first major changes is the hiring of a men's basketball coach, Andrew Garcia.
Having been a single-sex institution since its opening in 1869, Chatham has never had any male sports teams. Therefore, Garcia is making history by being the first men's basketball coach at the school.
The Pittsburgh native attended and graduated from Central Catholic High School in 2002.
Garcia then received an undergraduate education in history at Tulane University in New Orleans, Louisiana in 2006. There he played basketball for three seasons, leading his team in assists for two of those.
He then went on to complete his master's degree in adult and technical education at Marshall University in 2009. Garcia served as the graduate assistant coach at the Division I school.
Garcia began his professional coaching career in 2010 at Flagler College in St. Augustine, Florida where he was the men's assistant coach. In 2011, Garcia joined Carnegie Mellon University's coaching staff as the assistant coach and recruiting coordinator.
Garcia does not expect to make major changes in his coaching style for his new head coach position, but does believe that others' expectations for him will be higher.
"You're much more under the microscope… far as representing the school and the mission of the university," he said.
Garcia is not deterred by the newfound responsibility.
"It's a big change, I think, but it's something that I'm excited about because it's obviously the next step in my career," he said.
One major change for Coach Garcia will be his recruiting style.
"I came from Carnegie Mellon University and the academic profile over there is way different," he said. "It's been a basketball program that's been established…so your recruiting style is much more narrow as far as that goes."
"[At Chatham] there's not one player, you have to completely build it, so my nets are cast wide right now," he said.
Garcia currently has two volunteer assistant coaches who are helping him reach out to players in the western Pennsylvania area.
"That's going to be big—we're really concentrating on the local kids, and that'll be how we build it initially," he said.
In addition to recruiting locals, Garcia is also recruiting players outside of Pennsylvania.
"We've been getting tremendous interest from people outside of the region: Texas, Florida, New Jersey, New York, California even," he said.
Garcia says that he and his team have sent out, "1500 emails plus," and now they are in the process of going through and replying to them.
He believes that, while outside recruiting is important, the real priority is going to be getting the prospective students on campus.
"Now we're just trying to get them to come visit, come see it, come get on campus, you know, touch it, feel it, and see if you like it," he said.
One of the greatest opportunities for getting students on campus, he believes, will be the upcoming recruiting clinic he will be holding on October 12. This will be an opportunity for potential students to hone their basketball skills as well as experience a small bit of Chatham culture. He hopes to hold a few more of these clinics throughout recruiting season.
As far as the students he plans to recruit, Garcia says that his first priorities are character and academics.
"If I bring in a guy who has great academics, and because of that he has great character, or because he has great character he has great academics, then he will be able to adapt much better than somebody who maybe doesn't," he said.
Overall, Garcia wants to keep in mind the current Chatham community, as well as the comfort of the future male students in the university's culture.
"I just think… whoever you bring in is going to have to step into that community and be comfortable, so I'm learning…culture as I go, and it means a lot more [at Chatham]," he said.
As far as the future of the men's basketball team, Garcia made it clear where his priorities lie.
"I'm not worried about, 'are we going to win 20 games our first year,' which if you concentrate on that, you're worried about the wrong thing. Like I said, I've got to bring in good guys, that's the main thing," he said.
About the success of his future team, Garcia said, "If you define "success" as…guys [that] are going to help carry the mission of the university, and the image of the university along, then yes, I'm very optimistic for it. Are we going to win twenty games in the first season? Maybe…but I don't really care about that. That's the last thing on my mind."