Cougars fall to Bearcats in PAC opener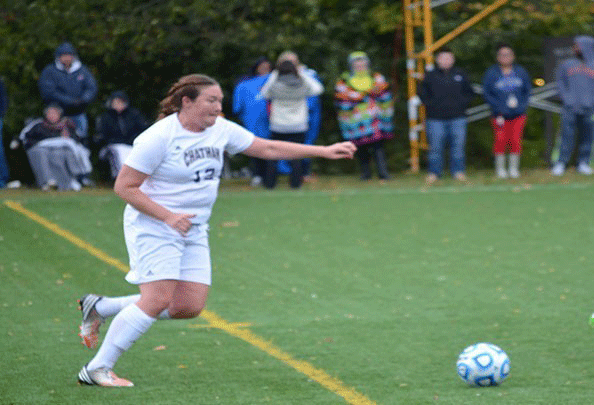 On Saturday, October 5, the Chatham University Cougars hosted the St. Vincent College Bearcats in the first soccer game of the Presidents' Athletic Conference (PAC) competition. The Cougars lost 2-0 after a hard-fought battle.
Weather conditions were less than ideal, with the first cold front of the season sweeping through Pittsburgh, as well as a smattering of rain throughout the day.
The first half of the game was scoreless, with senior Liz Sawyer in the goal for Chatham.
Throughout the rest of the game, Sawyer logged 11 saves of the 13 shots that St. Vincent made on the goal. This brings Sawyer's saves to 97 for the season, including her in the top 15 for NCAA Division III athletics.
In the fifty-first minute of play, Bearcat's midfielder Amie Dobracki scored, assisted by forward Emily Johns.
The second and final goal of the game came in the sixty-sixth minute of play. Forward Meghan Smith scored the goal.
Chatham made great pushes toward the St. Vincent side of the field, but were unable, in the end, to make any goals. Sophomore forward Skylar Benjamin logged two shots on goal. Senior midfielder Sarah Ellis also had two shots.
First year forward Megan Sieg also had one shot on goal in possibly the best scoring opportunity the Cougars had, but was unable to find the back of the net.
The Cougars will travel to Waynesburg on Wednesday for their next PAC game.