Women's Soccer Season Comes to an End
By: Jack Ridenour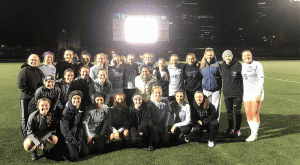 The women's soccer team had an impressive season, finishing off the year with an 11-6-1 record. The team finished fourth in the conference, and had a conference record of 5-3-1. Their strong defensive play was a big driving force for them the entire year. Goalie Ashley Bergman '21 was a big part of the defense's success, having eight shutouts and twice named PAC rookie of the week. The Cougar's offense also performed well this year, as Victoria Vernail '20 led the team with six goals. Darby Robinson '21 and Julie Bruening '19 were tied for second with five goals apiece. Vernail and Bruening were also tied for first on the team in assists, both at four a piece.

The team's final regular season game was an away match up against the Golden Tornadoes of Geneva College. The Cougars took control of the game early, out shooting the Tornadoes eight to two in the first half. The team continued to be aggressive throughout the second half, getting off eight shots to Geneva's five. After no score in regulation, the game went into the first overtime, and eventually into a second overtime. The game ended in a tie, but the Cougars outplayed the Golden tornadoes, as they were unable to get off a goal in either overtimes. With the tie, the Cougars clinched the fourth seed in the playoffs, and made it to the post season for the second year in a row.   
On Tuesday, the team traveled to Thomas Moore to take on the Saints in the semifinals of the PAC playoffs. Coming into the game the Cougars were the fourth ranked team and the Saints were the first ranked team in the conference. The Cougars held the Saints to only six shots in the first half. The defense continued their stellar play into the second half, but the Saints eventually scored the first goal of the game in the 65th minute. They would score another goal in the 72nd minute, to make the score 2-0. Bruening scored the lone goal for the Cougars in the 86th minute, but it wasn't enough as the Cougars fell to the Saints 2-1. This was only the fifth goal that the Saints had given up in league play this year, and Chatham's first ever goal against Thomas Moore.    
Hampered by injuries towards the end of the season, the Cougars were still able to fight their way into the playoffs. The bench stepped up big time in crucial moments, which led to the team finishing in the top five of the conference. The combination of veteran leadership and young talent will allow the team to fight for the PAC championship in the coming seasons.