Women's Basketball Team Bounces Back After Slow Start in Conference Play
By: Jack Ridenour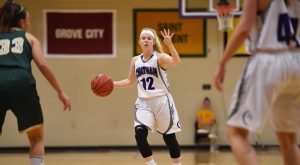 The women's basketball team kicked off their first two conference games of the year against St. Vincent College and Westminster College. The team came into the game with a record of 1-2, where they had just wrapped up a tournament in Maryland where they faced St. John Fisher College and McDaniel College.
St. Vincent came out of the gate hot, shooting 61% from the field and 50% from three. The Cougars struggled to score, as they found themselves down 49-32 heading into halftime. The Cougars were unable to respond in the second half, as the Bearcats would continue to dominate the game. The team would fall to St. Vincent by a final score of 98-63, but would have three starters in double figures. Junior Katie Sieg led the team in scoring with 20 points followed by junior Olivia Barkley with 14 points, and junior Ashley McClain would add 13 points of her own.
The Cougars would take on Westminster College in their second league game. The team would play much better in this contest, as they jumped out to a 24-15 lead at the half, shooting 31% from the field. In the second half, the Cougars would continue to take advantage of the Titans shooting woes, as they would win the game by a final score of 58-46. The Cougars were led by Ashley McClain who would have 26 points for the game as well as two assists and two steals. "We just played really good defense and made it a priority to get their two post players into foul trouble and get them frustrated. Then on the offensive side pound the ball into our post, and to really pass the ball around to the open players." said junior Natalie Knab on what worked for them in their win against Westminster.
The team showed great improvements over the last week from their game against St. Vincent to their game against Westminster. "We brought energy and hustle. Our goal was to outwork Westminster every play and I think that really showed. Each play we fought for rebounds, points and steals." said sophomore Sierra Ungerman about their improvements over the last two games. With these quick improvement by the team, they are going to be a tough team to beat throughout the rest of the season.