Men's Basketball Split First Two Conference Games
By: Jack Ridenour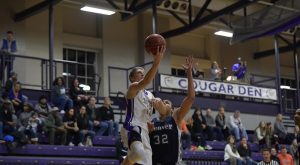 The men's basketball team started their conference play last week with the first contest against St. Vincent College, a team that has been one of the top teams in the conference for the last three years or since Chatham has had a men's team. The Cougars came into the game with a record of 1-1, with their previous game being a loss to Capital University in Columbus, OH.
The Cougars took advantage of the Bearcats slow start in the first half, shooting 53% from the field and 36% from three. They continued their strong play into the second half, where they would ultimately win the game 70-64. This is the team's first win in program history against St. Vincent, a team that has given them problems in the past. Isaiah Brown '19 had an impressive game, leading the Cougars with 20 points, shooting 7-13 from the field. Will Sandherr '19 had a strong performance off the bench, shooting 6-10 from the field and tallying 16 points.
"It was a great feeling because I knew coming into the game we needed to play well to get a victory." said Sandherr, who had previously played for the Bearcats and transferred to Chatham last year.
The team's next conference matchup was against the Titans from Westminster College. The team started the game slow, but managed to climb back and take a one-point lead heading into halftime. They had a rough start to the second half, and found themselves down by as much as 18 in the second half. They fought back down the stretch, slowly cutting the lead down from 18 points to 1. The Cougars eventually fell to the titans by a final score of 62-61. Isaiah Brown led the way again, with 18 points, and Will Sandherr was second in scoring with nine points.
Going forward, the team will need to build off these two games as they continue into their league play. "Keeping our confidence up and realizing we can beat anyone in our conference. When this program began, we were the underdogs every game. But now we need to realize we can beat anyone." said Schoppen, when asked about what the team needs to work on over the next few weeks. As the team improves, they will become a formidable opponent in the conference this year and years to come.