---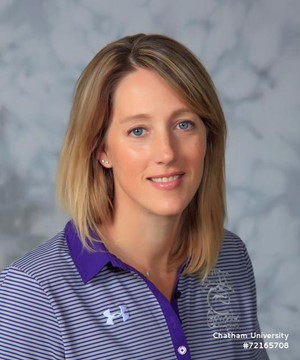 By Iyanna Armwood
Larissa Stephenson is a new face on campus. Squash is a wellness class taught at Chatham University, but it is now forming two varsity teams this term with Stephenson as the head coach.
"I started coaching, actually, while I was a still teenager. When I coached younger kids," she said. "When I graduated college in 2006, I started coaching sort of more full time. Then I was playing professionally and coaching on the side." She's now coached for 15 years.
Stephenson is from New Zealand. She took part in many sports in school, but squash was the one she played the best.
"I used that to go to college in America," she explained. She coached and trained at country clubs on the side for income as she played squash professionally. "It's really exciting for me to be [at Chatham] and starting something. It [Squash] is traditionally a country club elitist sport in this country, and it's not like that anywhere else in the world."
She wants to make it more accessible to college students to enjoy, in hopes of keeping the popularity of the game growing.
Stephenson is not the only one excited about squash starting as a varsity sport at Chatham University.
"Having Dr. Finegold's support is huge to me," Stephenson said. She is happy to hear the president's enthusiasm for the sport as she begins building a team. The men's team is coming together, but there are no women starting this term.
"I'm not looking for super stars. I'm looking for people who still want to play and have an immediate impact on their team," she said. "Basically to see [the squash team] grow up is my main goal."