Meet Joseph Bortak, Chatham's new women's volleyball coach
---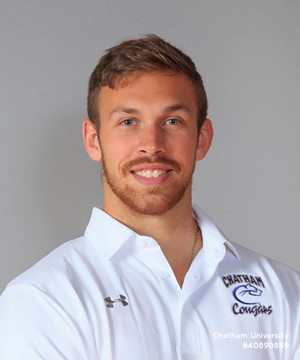 By Molly Hunter
Women's volleyball coach Joseph Bortak is a fresh face at Chatham University. A native of Jeannette, Pa., Bortak attend Juniata College to study early childhood education and play Division Ⅲ volleyball on the side.
Bortak decided to go into coaching because of his love for volleyball.
"Since I can no longer play at the collegiate level, I thought what better way to stay involved with the game and impact our youth than to become a coach?" he said.
Growing up 45 minutes away from Pittsburgh, Chatham is close to Bortak's home. "It is a beautiful campus, and Pittsburgh is an up-and-coming city. I thought it was a good opportunity for me to get myself into the Division II women's volleyball community and the coaching world."
As a coach, he wants to "impact the lives of the students that I get to come in contact with," he said. "I want to have a solid career coaching and make the most of that, but I also want to have a positive impact on the students I come in contact with."
A few of Bortak's goals include "improving each and every day, whether it's through practice, a match, see the team comradery always improve, see their own expectations improve and ultimately lead to success in the win column, as well," he said. "Hopefully we can get into the President's Athletic Conference tournament and then we can go from there."