---
By Clair Fink
Crossing the finish line at the top of the pack is not a new experience for Rebecca Pennington '22. As a Chatham Cougar and one the Presidents' Athletic Conference's top cross-country runners, Pennington has already started making a name for herself here.
She has been named the PAC "Runner of the Week" three times now. Bruin, Pa., is her hometown, where she went to Karns City for high school.
She started running cross country in seventh grade because she was inspired by her father, who ran cross country in high school. Choosing Chatham University over other schools, she said, had a lot to do with Jonathan Morrow, the head cross country and track and field coach.
Pennington also was drawn to the biology program here and its reputation for helping students get into medical school. She enjoys Chatham's smaller size and its location in a mid-sized city.
"The team here is a tight-knit group of friends," she said. "We hang out a lot on and off of campus. We all enjoy being with each other and often eat meals together."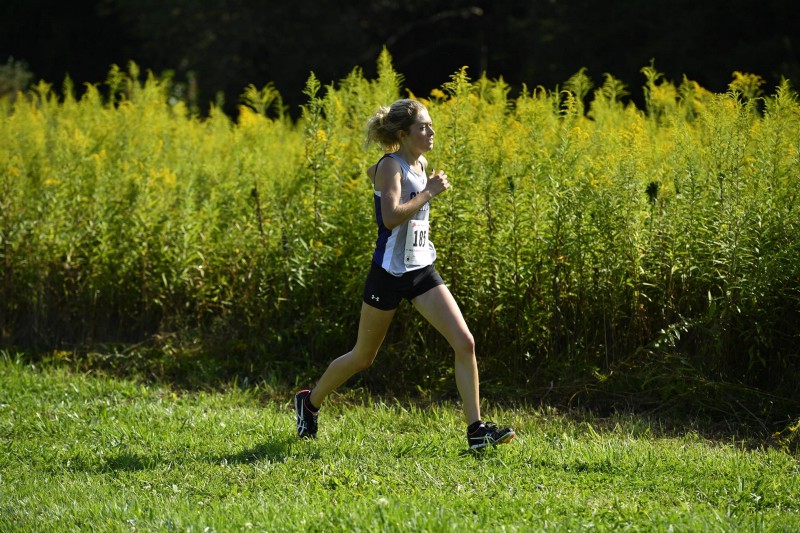 Lately, she has achieved some personal records, including a time of 22:29 in the 6K and 18:41 in the 5K. While at Chatham, her athletic goals are to win the PAC championship, qualify for nationals and run a 6K in less than 21 minutes.
Running is a mentally tough sport, which Pennington noted as one of her strongest skills. It also requires building endurance and having high energy.
"I have broken multiple records in high school and college, medaled at state [races] in high school, and won my first collegiate meet at the Waynesburg Invite," Pennington said about her accomplishments. Nevertheless, she is always looking for ways to improve.
"Becca has been a great addition to the team. I knew from the first time I saw her run that she had almost unlimited potential. She just needed a little added structure and some work on little technical things," Morrow, her coach, said. "We always say that doing the little things makes the difference, and that is exactly what Becca has done."
Thanks to her talent and determination, Morrow thinks Chatham's cross country team is due for a boost in recognition within the conference.
"There has been a total culture change and all of our ladies and men, not just Becca, take pride in being competitive collegiate runners," he said.
To catch the team in action, the PAC Championships will take place Oct. 27 in Waynesburg to decide who will advance to the regional meet Nov. 10 and nationals Nov. 17.