Chatham University's reaction and recovery in wake of Tree of Life shooting
---
By Maggie Susa
Reaction and recovery in wake of Tree of Life shooting In the wake of the shooting that killed 11 people at Tree of Life synagogue on Wilkins Avenue in Squirrel Hill — just a few minutes away from Chatham University — memorial services have been held nationwide. In the weeks since, Chatham University also has paid tribute to the victims and provided students and faculty with outlets to grieve, heal and reflect on the school's response to the tragedy.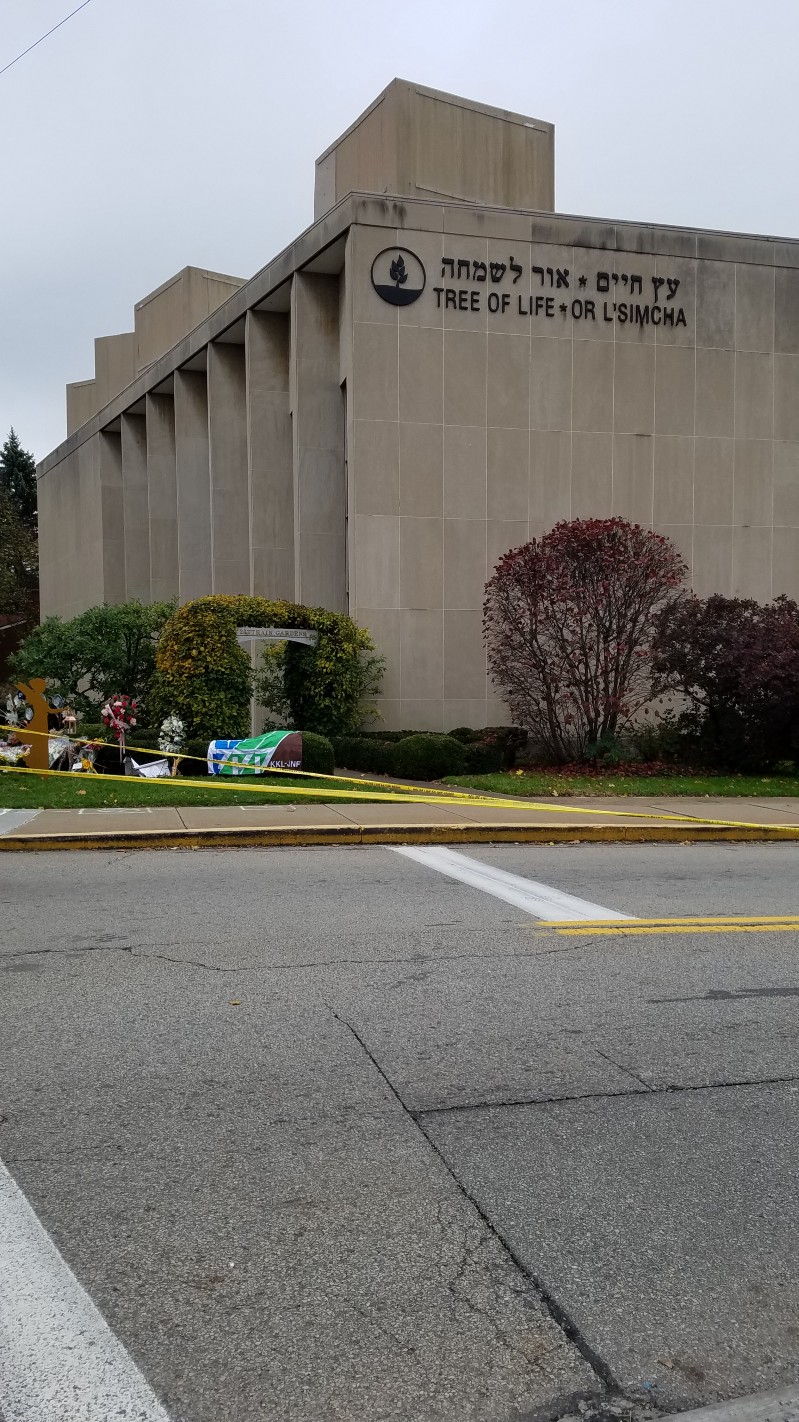 On Nov. 1, Chatham held its own vigil beside the pond and invited local religious leaders to speak. Fernando Soriano, President of Chatham Student Government (CSG), also gave a speech.
"In spite of this tragedy, we saw a remarkable response from many, one that ought to be the norm rather than the exception," Soriano said of the Pittsburgh community at the podium.
Chatham also has taken measures to assure its community members of their safety and to show support for the Jewish community. Specifically, the Office of Student Affairs is doing a T-shirt fundraiser to benefit the Tree of Life synagogue. Shirts are $15 for students and $20 for non-students. Campus counseling services also offered extended hours.
"Reach out to people you trust," Soriano said. "It's important to voice your concerns and be vulnerable."
CSG is working on creating a campus culture that encourages people to speak up about how they feel. The group held a public forum meeting Nov. 1 in the evening for students to ask questions and discuss what happened. More than 40 students turned out.
Vice President for Student Affairs & Dean of Students, Dr. Zauyah Waite, and Assistant Dean of Students, Heather Black, attended the first half of the meeting, but Soriano asked them to leave for the second half so students could have a chance to express their feelings without authority figures present.
General transparency, a breakdown on communication protocols, and providing targeted support for Jewish students were all topics discussed at the meeting. CSG is planning on having another forum meeting sometime after the Harvest Dinner on Nov. 14 and before Thanksgiving break to hear directly from the people in charge like Chief of Police, Valerie Townsend, and Dr. Waite about what they are doing to make emergency procedures as safe and efficient as possible.
The University shared in an email to students, faculty and staff on Nov. 9 that it has completed an initial review of its response to the shooting. It listed stationing officers to block entrances to campus; adding nine extra officers to campus within an hour of receiving early details about the incident; close coordination with Pittsburgh Police and the FBI; and Admission staff communicating in person with Friends & Family visitors about the situation as some of the "positive actions" taken.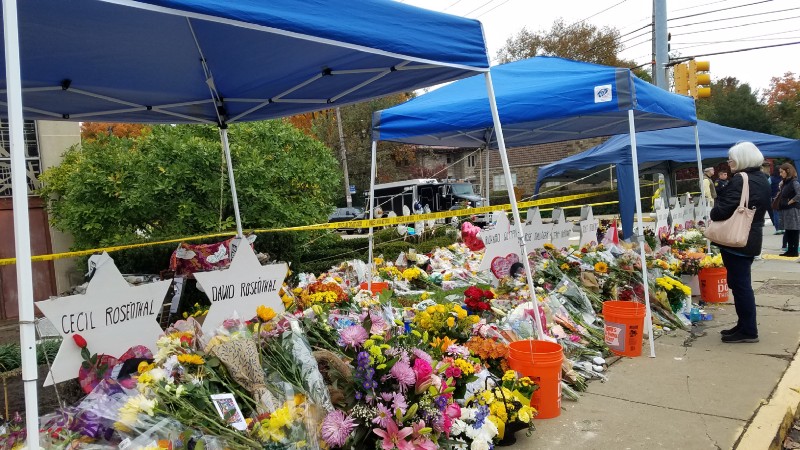 The review also identified ways to improve. For instance, campus lockdown procedures and information on Omnilert have been added to the Chatham website. The alert system also will be tested each term. The University plans to conduct active-shooter response training for buildings and departments in the weeks and months ahead.
The men's lacrosse team had practice on the soccer field behind the Art & Design Center the morning of the shooting. There were prospective students observing the practice that day.
"We all heard the shots but thought it was thunder," lacrosse player Chase Baggs '19 said. "Once our coach found out what it was, we went inside."
Ariel Gray '19 is one of many students who thinks there is room for improvement in the University's emergency alert procedure.
"My parents were here for family weekend and they actually knew what was going on before I did and they told me when they got here," Gray said. "I think it took way too long to put the campus on lockdown. Duquesne and CMU were on lockdown before we were."
She suggests that there should be a way that people are automatically signed up for Omnilert, Chatham's text-based alert system, and then they can opt out of it if they choose. She didn't even know the system existed until after the fact. In terms of paying respect to the victims, though, Gray thinks the University did a decent job.
"I went to the vigil they held with the wreath," she said. "I like that we had something like that to honor the victims."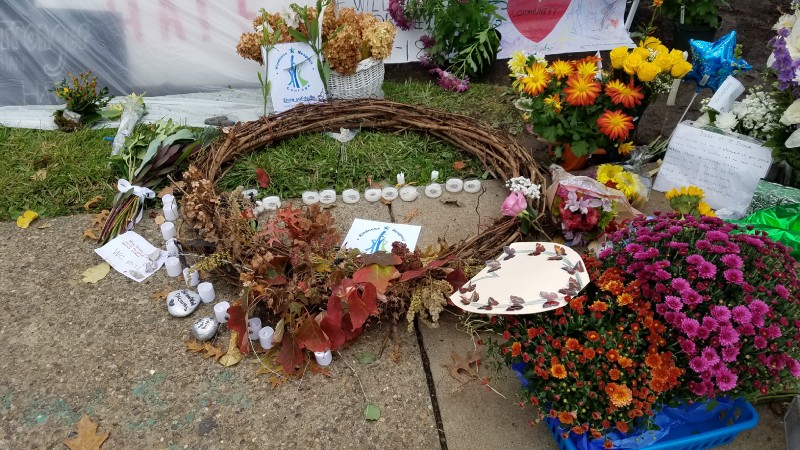 Kelly O'Donnell '19 was at breakfast with her parents in Mellon Center when her sister called her in a panic to inform her of what was going on nearby. She agrees that the campus should have reacted sooner.
"I cannot think of a valid reason for not having a lockdown when there was a shooting a block away from our campus. The minute our administration and Chatham Police found out the entire campus should have immediately been on lockdown," she said. "I was standing outside of Mellon watching a tour walk down Woodland Road as ambulances raced up the road to get
to the scene."
O'Donnell added that she thinks the University should have canceled classes the Monday following the shooting because it can be difficult to focus while dealing with emotional trauma. When deciding how to handle classes, the University kept in mind that not all students respond to grief and tragedy in the same way.
"The aftermath of the event will linger differently for different students," Dr. Waite said. "We are doing our best to be conscious of that."
Faculty members were given guidelines on what to do if they chose to hold class that Monday and were told to be aware that some students might be too emotionally affected to meet deadlines for the week.
"The Jewish students I spoke with wanted to go to class," Dr. Waite said. "Everyone heals differently and for some of our students, cancelling classes may not have been the best option."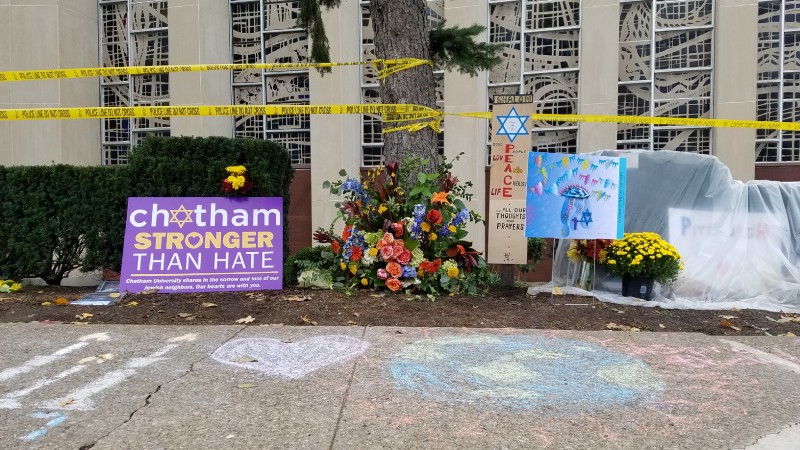 A second email sent out at about 2 p.m. the day of the shooting can-
celled "all campus-related events" for the day. The activities on campus that continued on Saturday, like the admissions events, were all contained within the campus, which was deemed to be a safe area.
"Our public safety department was in communication with Pittsburgh Police during the day and they informed us that our campus was safe," Dr. Waite said.
Students who wish to voice their concerns and opinions about how Chatham University responded to the shooting are invited to attend CSG senate meetings held at 11:30a.m. Thursdays in Woodland Hall, room 103.