Women's soccer team closes out season
---
By Jack Ridenour
The women's soccer team wrapped up its season with a 2–0 lose to Grove City. To capture the final playoff spot, the Cougars beat Geneva College on the last day of the regular season.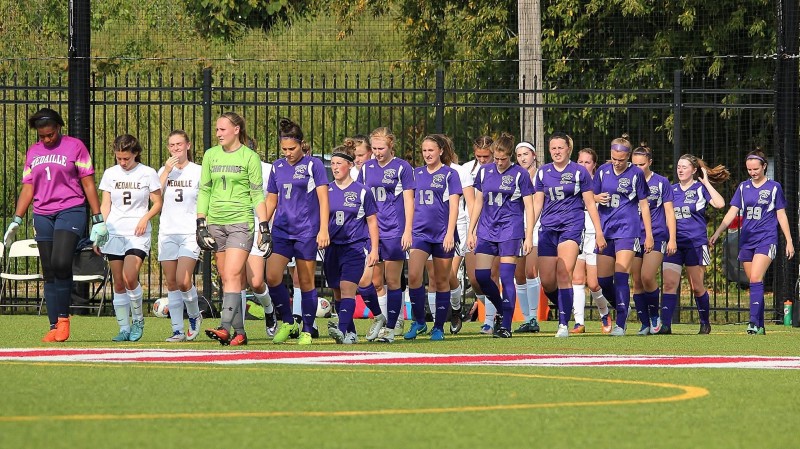 The team finished the regular season on a high note with a four-game winning streak. For the season, the Cougars had an 11–6 overall record and a 5–3 conference record.
The team graduated eight seniors, including three former all-conference performers: Megan Sieg, Katie Sieg and Julie Bruening. Megan Sieg and Bruening both netted four goals each on the season, while Katie Sieg scored three. Megan Sieg and Bruening also had 11 points on the season; Katie Sieg finished with seven points.
The underclassmen have some big shoes to fill with the loss of Bruening and the Sieg sisters. However, these seniors believe the younger players will step into their new roles nicely.
"The younger players have gotten so much experience this year that they will be able to take over next year," Katie Sieg said. "They are all such hard workers and will be able to make the team competitive and successful next year."
Although the team was led by three experienced seniors, they had help from some up-and-coming players. First-year students Morgan Anderson and Paxton Steffy both led the team with 14 points each. Anderson scored four goals during the season, while Steffy led the team with seven.
The younger players are aware that things will be different with their senior leaders gone.
"The team dynamic will definitely be different without the leadership of Katie, Megan and Julie," said Bre Oltman '22 about next year's team. "However, they have given me great examples of how leaders should be. With that being said, I will need to continue their legacy and use what they taught me to take on more of a leadership role."
With their leaders gone, the team will not only have to adjust their style of play but also adapt to a different mindset heading into next year.
This year marked the end of a great run by the seniors. The team made the playoffs three of the last four years and posting a record of 41–26–2. "Playing on this team and with these girls has been one of the best experiences of my life." said Katie Sieg about her playing experience with this team. "We are all so close and all has each other's backs on and off the field. I will always remember."
The team made the playoffs three of the last four years and posted a record of 41–26–2. "The team is going to need to come in with a positive mindset and a strong work ethic in order to maintain and continue the success of our program," Oltman said. "I am excited to see what the future has in store for us."