What makes HBO's 'Sharp Objects' so sharp?
---
By Iris Marzolf
This is a spoiler-free review. Those who have never seen the show can read.
***
Adapted from the book of the same name, "Sharp Objects" is one of HBO's must-watch shows of the year. It follows journalist Camille Preaker (Amy Adams), who's assigned to cover a story about the murder of a young girl in her hometown. As she seeks to unravel the mystery, she reunites with her family, triggering traumatic childhood memories.
I'd like to begin by saying I did not read the book and, therefore, cannot compare the book to the series. Regardless of whether you've read the book or not, it's important to approach the series with an open mind and accept it as a separate work.
The book's author Gillian Flynn, who also penned "Gone Girl" and "Dark Places," adapted "Sharp Objects" for the screen. The director, Jean-Marc Vallée, is responsible for creating such films as "Dallas Buyers Club" and "Wild," which ought to lend an idea about the cinematic quality of "Sharp Objects." This is a mature series exploring the dark side of female psychology. Its eight episodes, each about an hour long, are comparable to an eight-slice black forest cake — chocolate layers with rich cherry filling, all darkness and gory intrigue. The series may be binge worthy, but its heavy content warrants savoring one episode at a time.
Camille's relationships with her mother Adora (Patricia Clarkson) and stepsister Amma (Eliza Scanlen) are each toxic in their own ways, yet there are undertones of protectiveness and love. The interactions and dynamics between these three women are the pulsing heart of the series.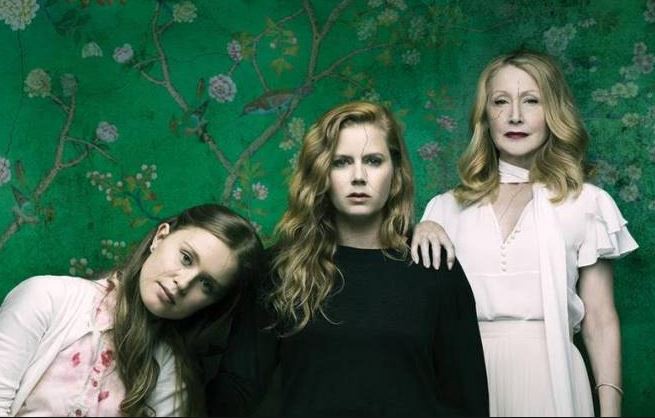 Some may have a difficult time with the show's slower pace. There are plenty of shots of Camille's long, contemplative night drives, sipping vodka in her car as she listens to music. At times, it seems the series has no interest in solving the mystery but in unraveling who Camille is and what made her that way.
Flynn said in an interview for Entertainment Weekly that in her mind "'Sharp Objects' was a character study hidden inside of a mystery." While waiting for the mystery to be solved, we are sustained by tidbits of Camille's past as she struggles with her physical and emotional scars. The series takes its time, building atmosphere and a slow-burning intensity. Every episode was charged with emotion, courtesy of Adams' veteran performance. All the cast members were well-chosen for their roles, but it's hard to imagine anyone else as Camille than Adams.
Arguably, one of the series' greatest strengths is that it challenges gender norms and subverts gender stereotypes. One of the characters, John Keene (Taylor John Smith), freely expresses his emotions, crying in grief for his murdered sister. It was refreshing to see a male character portrayed as "sensitive," when men are typically shown to be stoic and reserved with their emotions as a result of societal pressures and expectations.
The series highlights the negative aspects of relying on gender norms when John becomes a suspect of the murder, because nobody believes a man would be so emotional about his sister's death, unless he were wracked by guilt for causing it. (Likewise, nobody believes that women can be capable of anything conniving or immoral.)
Amma's character subverts these "gentle" and "innocent" stereotypes often associated with females. To her mother and most of the town, Amma is perceived as a delicate little girl who still plays with her dollhouse and wears bows in her hair. However, she has a whole other persona: the bold and flirtatious, rollerblading bad girl who skates around town at night, goes to parties and does drugs.
"Sharp Objects" is rated a well-deserved 8.2/10 on IMDb and 92 percent on Rotten Tomatoes. Its gripping content, atmospheric nature and engaging characters will make it appealing to many. Specifically, it's great for women; mystery and thriller enthusiasts; Amy Adams fans; and those who enjoy psychological puzzles and imperfect characters.
Any readers who want to start watching "Sharp Objects" should note that the series does not come with a trigger warning, but it should — trigger warnings for self harm, suicide, abuse, blood and violence, sexual assault and racism. (There is an episode where characters essentially celebrate the Confederacy.)