Vegan Crawl Review: B52 Restaurant
This semester, the Communiqué scouted the city to find some of the best spots for vegan food. Here's the first installment in the series.
B52 is a small cafe located in upper Lawrenceville. It features an all-vegan menu, which includes a fusion of American and Middle Eastern cuisine, house-baked goods, chocolates and a full service espresso bar.
B52 Cafe opened in January 2016 by Omar Abuhejleh, who is also the founder of Squirrel Hill's Allegro Hearth Bakery.
The menu rotates from breakfast to dinner, but we prefer the Sunday and Saturday lunch and brunch options.
We decided on the tofu scramble, which comes with two latkes, shiitake mushrooms and kale. We also decided on the raspberry-cashew-cheese toast and the almond-cashew yogurt topped with berry compote, banana, agave and muesli.
We heard it serves some pretty tasty pancakes, too.
The prices are affordable; the most expensive item on the menu is $14, which is great for college students.
The best part of B52 Cafe is that the menu has a veganized take on options known by everyone.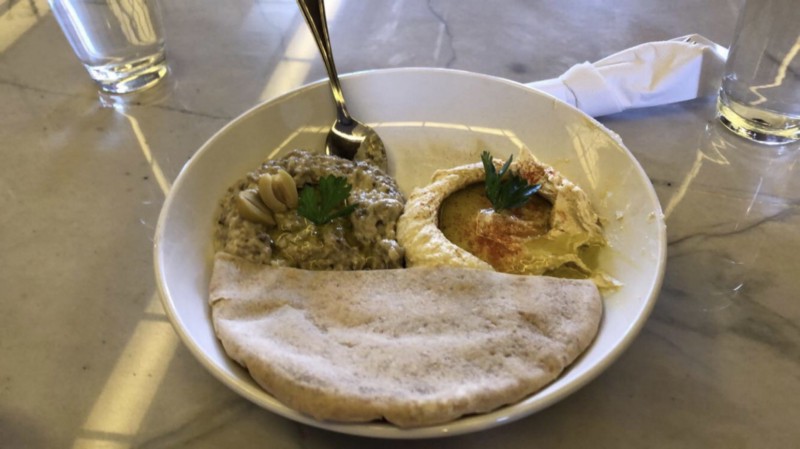 This restaurant is a good spot to take friends and family who aren't vegan, as well, because the menu isn't overwhelming. Pancakes are simply labeled as "pancakes," instead of some name that only vegans know.
B52 Cafe is pretty casual in terms of the dining experience. There is seating for 35 customers, including a bar and a to-go section for those grabbing something while on the move. Seating tends to fill up pretty quickly, especially during breakfast and brunch hours.
If you're like us and don't mind the wait, we suggest checking out the shops located along the blocks near B52 Cafe. Some of them worth checking out are City Grows (decorative plants and organic gardening products), Three Pigs Collective (vintage apparel, accessories and decor), Who New Retro Mod Decor (home decor from the 1950s-1970s) and The Black Cat Market (a cafe that has cats on site you can cuddle).
B25 Cafe is about a 30-minute bus ride or a 20-minute car ride from campus. There is mostly street parking in front of the cafe. We recommend bussing or going on a Sunday when parking is free.
Hours for B52 Cafe are 8 a.m. to 9 p.m. Mondays through Saturdays and 9 a.m. to 3 p.m. on Sundays.
Grab some friends and check out B52 Cafe for yourselves, and keep your eyes open for another vegan restaurant in the next edition of the Communiqué.