Cougars route Tartans in home matchup
---
By Jack Ridenour
The Chatham men's basketball team took on the Carnegie Mellon University Tartans in a home matchup earlier this month. The game followed a 77–62 season opening victory against Penn State Beaver.
The Cougars went back and forth against the Tartans before taking a lead halfway through the first half. Small forward Alex Schoppen '19 started the game off hot, going a perfect five for five from the field and leading the team in scoring with 14 points. Shooting guard Will Sandherr '19 added to the strong offensive start for the Cougars, pouring in 11 points. With this start, the Cougars went into halftime with a 42 to 33 lead.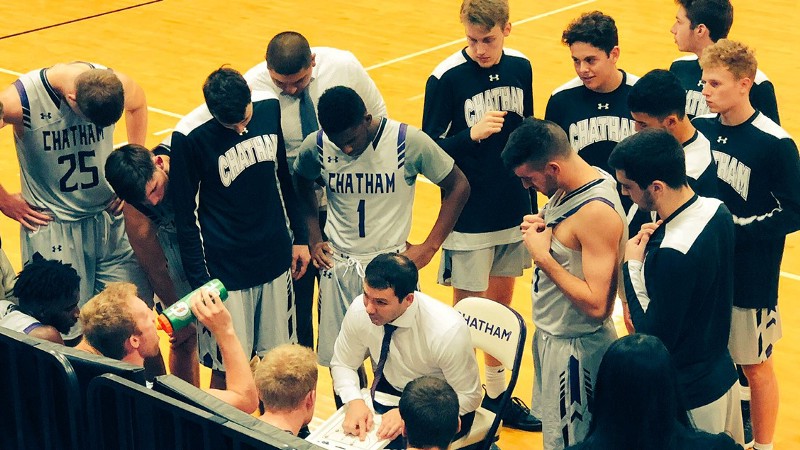 In the second half, the team didn't slow down by outshooting the Tartans 60.7 percent to 37.9 percent from the field. The Cougars limited the Tartans to only 11.1 percent from three. Point guard Anthony Bomar '19 led the defensive charge with two steals.
"Well, we knew they were big and physical and liked to get easy buckets in transition. So coming into the game, a big part of our scout was to get back on defense and make them run their half-court offense," Bomar said about the team's defensive approach.
The Cougars continued to dominate the entire way, defeating the Tartans 88 to 70. Schoppen was the leading scorer for the Cougars, going eight for nine from the field and finishing the game with a team-high 24 points.
As the team goes forward, it needs to stay focused and avoid becoming complacent throughout the rest of the season.
"We can be excited and proud of how we played, but we have to understand that it is one of 25 games," Schoppen said. "We had a big win at this time last year versus St. Vincent, but we became complacent afterwards. This is a new year, and I feel we are more than prepared to not let history repeat itself."
For some seniors, this season means a lot since it will be their last year in a Cougar uniform. "It's the last year of basketball for some of us, and we want it the best one yet," Sandherr said.
With a mixture of experienced and rising players this year, it will be important for the seniors to take the reins as the leaders. As the season goes forward and the team begins league play, they will depend on the seniors to guide the team, hopefully to a conference title.