Cougars come up short in first men's basketball conference matchup
---
By Jack Ridenour
The Cougars traveled to New Wilmington, Pa., to take on the Westminster College Titans in the team's first conference game of the season. The Cougars entered the matchup with a 3–1 record, with their most recent game resulting in a loss to Allegheny College. The Titans came into the game with a 2–4 record.
The first half featured a back-and-forth battle between both teams. The Cougars were able to sneak out of the first half with a three-point lead. They shot 44 percent from the field, while the Titans shot 46 percent. Heading into the second half, both teams came out flat, as they both shot 35 percent from the field.
With 30 seconds left, small forward Alex Schoppen '19 hit a three to put the Cougars ahead by one. The Titans responded with a three of their own on the following possession, putting the Cougars down by two. Unable to mount a last-second comeback, the team lost 68–63 to Westminster. Schoppen led the Cougars in scoring with 15 points, while point guard Anthony Bomar '19 added 12 points of his own.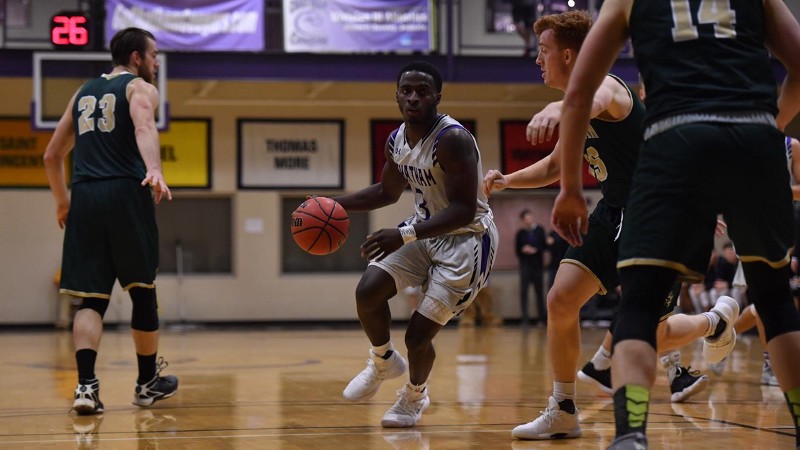 The Cougars were outscored 21 to 8 in second-chance points, which proved to be a big deciding factor in the outcome of the game.
"Second-chance points killed us Wednesday night. They got 39 points because of second-chance shots. That made us struggle during the game," forward Devin Stedman '19 said.
With more conference games to follow, the Cougars have emphasized the importance of these games. The Cougars need to come out victorious these in order to find themselves atop the conference standings heading into holiday break.
"I believe it's going to be rebounding and attention to detail. Our defense has been excellent down the stretch but there is always improvement in those two areas." Schoppen said about what the team needs to focus on these next few games. "I feel if we can clamp down on these aspects we're going to be successful."
The bulk of league play is around the corner, and the team needs to come together and focus on coming out on the winning side of these games. With a few conference wins under their belt before break, the Cougars can make a push to be one of the top teams in the conference.