---
By Abbey Sullivan
The turbulence surrounding the 2018 midterm elections was inescapable. Friends, family, peers and celebrities alike took to social media and street corners to rally members of all age groups to go to the polls.
As a result, the number of citizens who voted this November shattered records; NPR reports that the turnout reached a 50-year high.
Democrats have found reason to celebrate. They finally swayed a portion of our government in their favor by taking control of the U.S. House of Representatives. This gain included several unprecedented wins in primarily Republican districts, such as:
Dave Brat of Virginia lost to first-time candidate and former CIA operative Abigail Spanberger.
African-American candidates Antonio Delgado (New York), Colin Allred (Texas) and Lauren Underwood (Illinois) took control from Republican incumbents in primarily white districts.
Democrats acquired two suburban seats in Texas from Pete Sessions and John Culberson.
Furthermore, women made history on this ballot in several cases. Kristi Noem was named South Dakota's first woman governor; Sharice Davids of Kansas and Deb Haaland of New Mexico are the first Native American women elected to U.S. Congress; and Alexandria Ocasio-Cortez of New York is the youngest woman ever elected to Congress. These victories, among so many others, signal the ushering-in of a new wave of representation and equality in our governmental system.
The U.S. House of Representatives is fittingly titled. Unlike the Senate, the House is the most directly representative body of the United States' populous. It also has powers not awarded to the Senate, such as initiating revenue bills; calling presidential elections if the electoral college yields no majority; and the power of impeachment.
A major concern (particularly for Republicans) rearing its head in the wake of the midterm elections is the possibility that President Donald Trump may be put under a House investigation. Currently, there are numerous committees equipped with the ability to start an investigation — Intelligence, Ways and Means and Oversight, to name a few. Divisions regarding the implementations of such investigations exist, but in light of Trump's most recent action — the firing of Jeff Sessions — representatives from opposite sides of the aisle are growing suspicious.
Sessions was forced out on Nov. 7, 2018 and replaced by Matthew G. Whitaker, who many are calling a Trump loyalist and an outspoken critic of the Robert Mueller investigation into Russia's involvement in the 2016 presidential election. Concerns regarding his biasedness moving forward have forced some Democrats to call for his recusal from the investigation. Sessions did the same in 2017.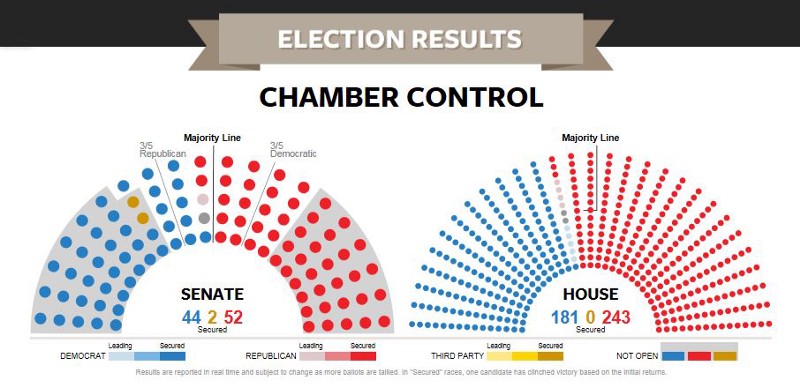 Overall, Republicans still maintain control of the Senate, a Republican president in office and two judges recently appointed to the U.S. Supreme Court. The Democratic acquisition of the House, however, should be looked at as one step toward the left in a series of many to come.