Men's basketball welcomes its first 2 players to 1,000 point club
---
By Jack Ridenour
Get to know Isaiah Brown '19 and Alex Schoppen '19, who became the first men's basketball players at Chatham University to reach 1,000 career points.
Isaiah Brown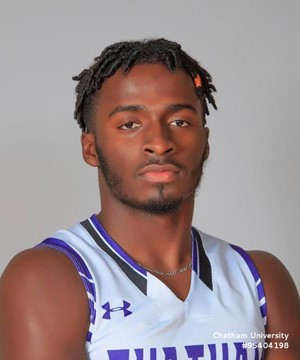 It's a quiet Monday evening in late January, and the men's basketball team has just completed a practice. Most players gather their things and leave once the final whistle blows, but not Isaiah Brown. He's no stranger to hard work, as he's spent countless hours in the gym before and after practice perfecting his jump shot and ball-handling skills.
Brown was born in Detroit, Mich., but spend his high school years at North Pulaski High School in Little Rock, Ark. As a smaller guard with impressive ball-handling skills and natural athleticism, Brown came to Chatham University with a lot of adjusting to do.
"The biggest thing for me was adjusting to playing multiple positions," Brown said about his early experiences as a college player. "I was so used to playing the one all throughout my life. When I came to Chatham, I had to adjust to playing positions I had never played before because of our lack of size."
The senior point guard had a new role to play on a young Cougars team, and he knew he needed to get to work if he wanted to establish himself.
"I knew I had to develop my fundamentals, but I was also aware I needed to get in the weight room," he said.
His progress from his first year to his second year showed, as he increased his scoring average from 9.7 points per game to 11.5. This season, he's been averaging his highest point-per-game total in his career with 16 points per game.
"Coming in to college I knew I could grow each year, I just had to put the time and effort into it," Brown said.
Alex Schoppen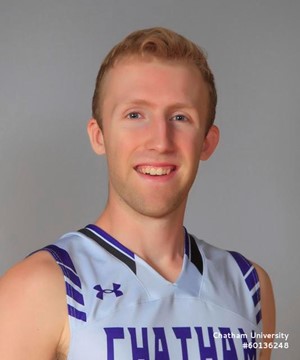 Senior forward Alex Schoppen — the program's most recent member of the 1,000-point club — had some adjustments to make as he transitioned from high school to college. The sharp shooter from Gibsonia, Pa., (and a graduate of Central Catholic High School), Schoppen came to Chatham as a tall skinny shooter who did not expect to have much of an impact on the young Cougars team.
"For me the speed of the game and the strength of the other players was the biggest difference I noticed from high school to college," he said. "I knew that I could not succeed based off of sheer talent. I was going to have to make adjustments if I wanted to improve my overall game."
Schoppen had a strong first-year campaign and averaged a team-high 11.3 points per game. During that off season, Schoppen made his biggest jump in his collegiate career.
"The summer going to my sophomore year I made the realization I needed to do more than just get shots up in the gym, but I had to improve my conditioning and get stronger," he said. Lately he's been averaging about 11 points per game and shooting 40 percent from the field.
Both Brown and Schoppen have had impressive careers in their four years at Chatham, but they hope to leave behind a legacy that is a model for younger players on the team to follow.
"I want to leave behind something that our younger teammates will want to strive for, in addition to having the mentality of always being a good teammate," Brown said.
For Schoppen, mentality is a big thing as it can be the deciding factor as to whether the team succeeds or not.
"The biggest thing for me I want to leave this team is to have a winner's mentality and to never back down from any challenge," Schoppen said. "It is important that this team stays in the winner's mentality and to always have a fun atmosphere while playing, but never lose sight of what they are striving for."