Chatham Art Gallery welcomes photography exhibition on migration, immigration
---
By Jade Marzolf
"We've all come from somewhere," is the concept behind the photography exhibition "Out of Many: Stories of Migration," which opens Feb. 7 in Chatham University's Art Gallery in Woodland Hall. It's curated by Brian Cohen and Laura Domenic.
The project is a series of exhibits, events and conversations encompassing the work of five photographers and two writers based in Pittsburgh. Together they wanted to showcase the faces and stories of migrants and immigrants, as well as foster understanding and remembrance for immigration.
"It's a part of who we are," said Cohen, who's also one the project's photographers and and an art professor at Chatham. "There is no such thing as an 'American' last name." Immigration to America or migration within the country has played a major role in forming everyone's identities and culture.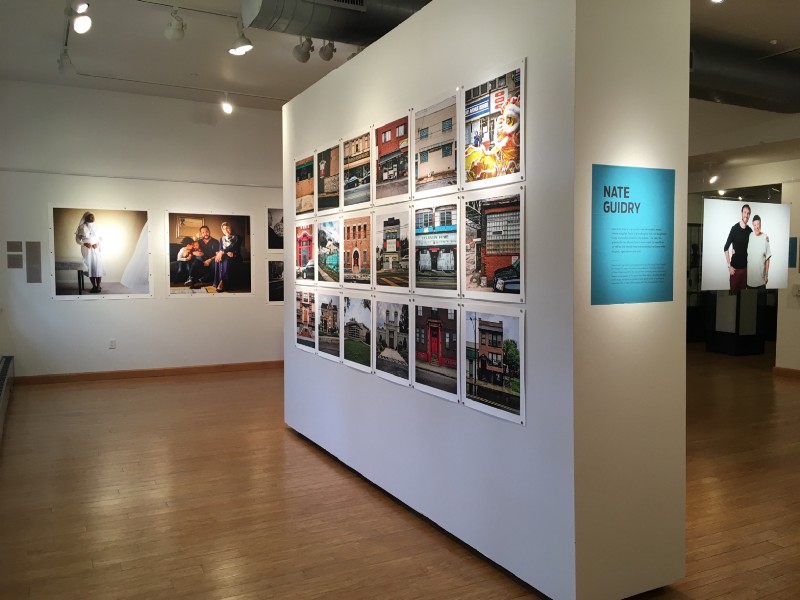 The project was a collaboration in which artists worked together to give each other feedback and support. Erika Beras and Reid Frazier were the contributing writers. All prints were done by Tom Underiner, the owner of the digital printing service Pixel River in the West End.
The photographers shot digital, each exploring the concept of migration in a different way.
Annie O' Neill documented a social experiment where she put two strangers together who both emigrated to the U.S. In each pair, one of the émigrés had been in the country a lot longer than the other. Nevertheless, they still shared a connection, whether it be a spoken language, occupation or reason for moving.
Scott Goldsmith followed a family of three refugees from Bhutan. He met them as they arrived at Pittsburgh International Airport and recorded their initial encounters with the city, including the first time they rode a bus.
Nate Guidry documented the everyday life of single father Jose Luis Ibarra as he cared for his 7- and 9-year-old daughters.
Lynn Johnson captured portraits of people during naturalization ceremonies in order to document the exact moments they became U.S. citizens.
Cohen photographed buildings used by migrant and immigrant communities, all located in Southwestern Pennsylvania. Each building represented a story, he said, and how different people are united by a desire to chase their dreams.
"We wanted to represent the reasons why people move and the implications. The aim of the exhibit is to encourage discussion about the subject matter in a safe, friendly environment," Cohen said.
The opening reception is 4–7 p.m. Feb. 7 in the Chatham University Art Gallery (5798 W. Woodland Road, Shadyside). Gallery hours are from 10 a.m.-9 p.m. Mondays through Fridays. The exhibit will be on display through April 4.