Satisfy your sweet tooth at Dave and Andy's Homemade Ice Cream
---
By Jade and Iris Marzolf
This semester, the Communiquè embarked on a quest to find some cool spots for ice cream in Pittsburgh. Here's the latest installment of the "Cougar Scoops" series.
Our fourth and final stop on the ice cream trail was a sweet spot in Oakland: Dave and Andy's Homemade Ice Cream.
It's been a Pittsburgh favorite since 1983.
It crafts small batches of ice cream and frozen yogurt from scratch using quality ingredients. The ice cream parlor is old-fashioned, small and cheerful.
Dave and Andy's offers a variety of treats, including sundaes, milkshakes, floats and even handmade cones with an M&M in the bottom. (It's a technique to prevent drippage.)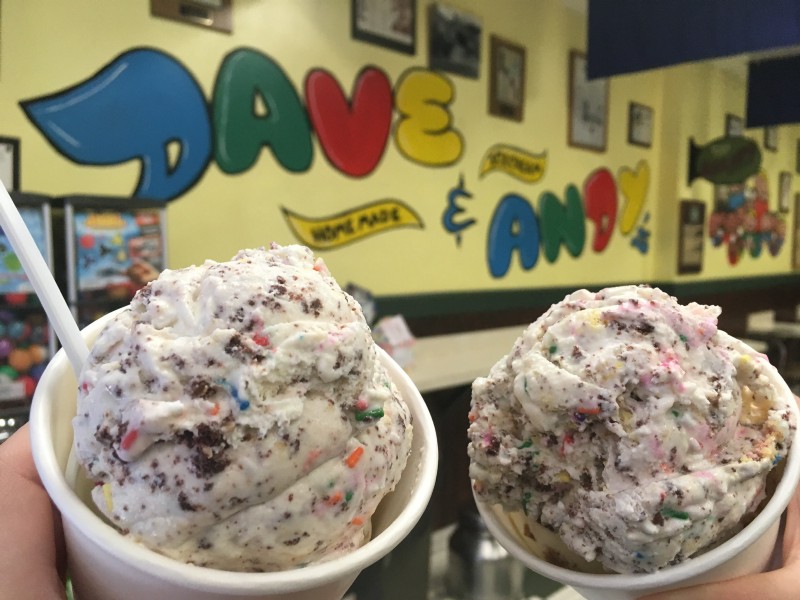 The same five flavors are always available: vanilla, chocolate, cookies and cream, and the two most popular chocolate chip cookie dough and birthday cake. There also are add-ins you can have mixed into your ice cream such as Kit Kat and Snickers candies or sprinkles.
Other flavors depend on availability of seasonal ingredients. Dave and Andy's sells other combinations such as black raspberry cookies and cream, maple bacon, and white chocolate cinnamon habanero. Brown butter especially seems to be a popular choice in the community.
The price range at Dave and Andy's is affordable. Almost everything is less than $5. One scoop is about $3, while two scoops is considered a large and costs $4.75.
We tried the oatmeal raisin cookie and birthday cake flavors. The oatmeal raisin cookie was filled with chunks of baked oatmeal cookie and raisins. The birthday cake one had swirls of frosting, crumbles of chocolate cake and rainbow-colored sprinkles. Both were sweet, satisfying and tasted exactly like the deserts they were named after.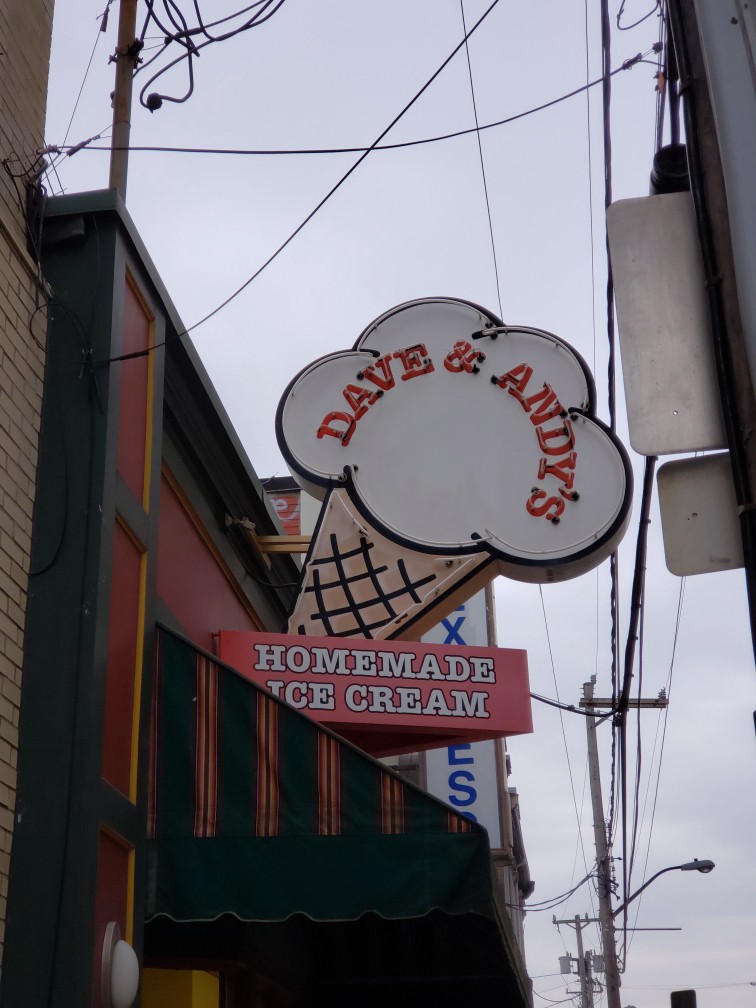 It was clear the ice cream was homemade by its taste. According to Pittsburgh Magazine, the shop also bakes its own cookies and cakes, which are crumbled into many ice cream bases.
Dave and Andy's is open weekdays from 11:30 a.m. to 10 p.m. and on weekends from noon to 10 p.m. Find it at 207 Atwood St., Oakland. The area is often congested with traffic, making it difficult to navigate or locate parking, so we recommend boarding the 71B or 71D Port Authority bus lines. Then, get off at the Atwood stop and walk down the street to the ice cream parlor.