Chatham University set to renovate athletic field in Wilkinsburg with $1M grant, should be ready by late November 2019
Chatham University began renovating Graham Field in Wilkinsburg over the summer. It will be the new home practice and game area for the lacrosse and soccer teams. The field is projected to be ready for use in late November.
Graham Field is at the intersection of Penn Avenue and Princeton Boulevard. It's an 8- to 18-minute drive from campus, depending on traffic.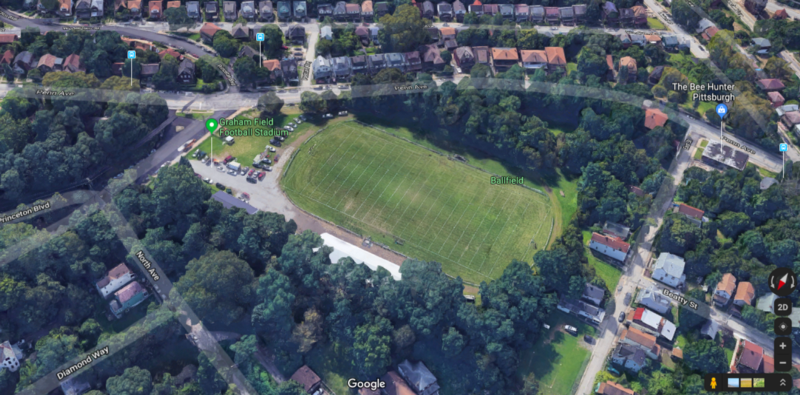 A million dollar grant was awarded to Chatham for the renovation.
"More [money] has been raised through ongoing fundraising, and will continue to be raised to fund the renovation process," said Chatham University's Athletic Director, Leonard Trevino.
The field is undergoing a complete overhaul, with just about everything being renovated and brought up to code, according to Trevino. These renovations include, but are not limited to: switching the field from grass to turf; upgrading locker rooms, training areas and bleachers; updating storage and concessions areas; redoing fencing around the field; and updating underground piping.
These renovations are being pursued sustainably, according to Trevino. A sustainable garden is projected to be built to limit runoff from the field, and the lights will be energy efficient and built to have minimum impact on surrounding neighborhoods.
The acquisition of Graham Field is in partnership with the Wilkinsburg community. The field previously belonged to Wilkinsburg High School, which closed in 2016. Currently, people in Wilkinsburg use the field for youth football and local high school events and games.
Trevino said these groups "will continue to use the field," and others may be able to "rent the field" in the future for other uses.
Once the field is complete, University lacrosse and soccer teams will no longer hold games at Ellis Field, only practices. Students will also most likely not play at Highmark Stadium in Station Square anymore, as the field has begun to "prioritize their professional soccer team as well as hosting events,'' Trevino explained.
The AFC staff and coaches are still trying to determine how student athletes will get to Graham Field.
"Vans driven by our coaching staff or student athletes have been used most regularly for practices [at Ellis Field]," said the Head Coach of the Women's Lacrosse team, Alyssa Batty.
Transportation may vary depending on the team.
"We are extremely excited to call this new space our home," Coach Batty continued. "We have not had a permanent location since that start of our program, and the athletes on our team are ready to create a winning transition at Graham Field."
Lacrosse player, Kristin MacConnell '22, is excited to have a dedicated space for games and practices. Currently, the team plays at Ellis Field and practices at the field behind the Athletic and Fitness Center.
"There is no lighting [on the field behind the AFC], so, if we want to practice later at night … we have to go to the gym and see if it is open," MacConnell said. Graham field will hopefully eliminate this issue for women's lacrosse players and other sports teams at Chatham.
"Having our own space and a consistent location for practices and games will be fantastic… We plan to have all of our home games played at Graham Field in the future," the Head Coach for women's soccer, Betsy Warren, echoed Batty's sentiments.
With the recent switch to co-ed and this new athletic field, is it possible that football is on the horizon for Chatham?
"I could see [the field] being used for intramurals — that could be fun," Trevino said. However, intercollegiate football is unlikely. "Football requires major infrastructure — weight rooms, training areas … it is not something Chatham is pursuing."
The women's lacrosse team hopes to use the field for the spring 2020 season, and the women's soccer team plans to hold its home games at Graham Field next fall.