Chatham Student Power holds sustainable fashion fair for thrifting and mending
The money raised and leftover clothes from the event will support LGTBQ+ youth.
Refreshing your wardrobe can feel exciting but cleaning it out can feel liberating. You can get the best of both worlds at this month's sustainable fashion fair.
Chatham Student Power (CSP) will hold a sustainable fashion fair from 8 to 10 p.m. Feb. 26 in the Carriage House to raise money for LGBT+ shelters and recovery houses in Pittsburgh. Leftover clothing will also be donated to these organizations.
This year, CSP is focusing on raising awareness about environmental issues. Members of the club expressed concern about throw-away and single-use culture, as well as the practice of overconsumption and the mass production of waste that comes from it.
"This fair touches on a lot of issues that CSP cares about — fighting back against the fast fashion industry, fighting back against the low wages and poor working conditions that come from it, advocating for less textile waste by repurposing and repairing old clothes rather than throwing them away, and giving college students a way to engage in 'slow fashion' for little-to-no cost," CSP Vice President Morgan Williams said.
The fair will include a $1-per-item thrift store and a free mending station for clothes with minor damages. Food will also be provided for shoppers.
Students can donate clothing to be included in the thrift store from noon to 2 p.m. Feb. 19 and 11 a.m. to 1 p.m. Feb. 25 in Anderson Dining Hall.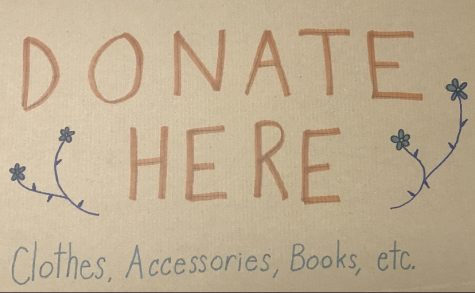 "Students will be able to get a $1 credit for the store with each item that they donate. You can donate more than 10 items, but $10 is the maximum," Williams said.
Beyond purchasing clothes, monetary donations will be accepted at the event. Students can get involved by donating clothes to the cause at a tabling event, spreading the word and attending the event.
Learn more on the CSP Instagram page @ChathamCSP and on Facebook @ChathamStudentPower. CSP is seeking volunteers to help sort clothing, assist shoppers at the fair, work at the mending station and more. Email Williams at [email protected] if interested.