Strangers prompt increased police presence around Fifth Avenue apartments
Chatham University students have been on edge in recent weeks due to alleged sightings of suspicious people loitering on campus at night. There've been at least six separate accounts from students of a man dressed in dark clothing walking around the on-campus apartment complexes on Fifth Avenue. The reports say this person peeks in bedroom windows, follows students to their cars and waits outside at night. The concern among students is increasing as more stories of the suspicious activity circulate campus.
"I heard a noise outside, and I looked out and saw a man in dark clothing walking behind the building looking in people's windows," said Katie Kretchman '22, a resident in theChatham apartments. "I watched him for a minute to get a good look at him and then I called the Chatham police."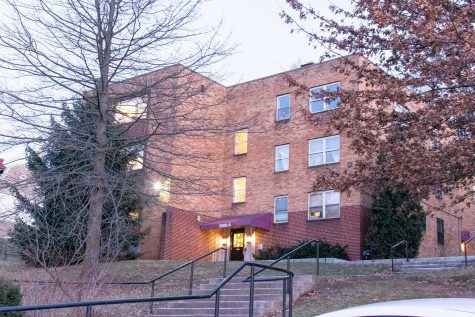 She said the police stayed on the phone with her until someone headed to the scene. Chatham police quickly took her statement about the Feb. 17 incident and questioned other students living in the apartment building, but the unknown person wasn't found.
"I feel safe for the most part but not enough to go out in the dark anymore," Kretchman added.
There are reports of a person allegedly attempting to break into Tower D of the Chatham apartments at about 8:30 p.m. Feb. 18. This prompted students to walk in groups to and from places on campus at night. Chief of Police Valerie Townsend and Director of Residence Life Shawn McQuillan released a statement Feb. 19 following these incidents. The email alerted students to the alleged man's presence and informed students about what the University has done in response to these reports of suspicious
activity. It also stated that, as of when the email was sent, no suspect had been apprehended.
"The two years that I've been here there have been reports of suspicious individuals on campus. At the conclusion of each of these investigations we've found that these individuals were usually neighbors walking through [the campus]; students, or faculty or staff members," Chief Townsend said in an email to the Communiqué. "Public Safety will continue to issue safety tips, preventive measures and procedures, and a reminder to report suspicious activity immediately. We will continue to issue timely warning notifications and/or neighborhood crime alerts as necessary and review them on a case-by-case basis."
According to an email sent to students, the Dean of Students Office is planning to host open office hours where students will be able to come and state their concerns about campus safety. These will formerly begin after spring break.
"RAs will continue to conduct their normal rounds, however, Public Safety increased the number of rounds they conducted and their presence on lower campus," McQuillan said in an email interview. "If RAs see anything suspicious, they are trained and instructed to immediately call Public Safety so they can respond appropriately. They also notify Residence Life On-Call and submit an incident report."
The alleged sightings on lower campus aren't the only incidents reported of students being harassed.
"With the more suspicious activity at night, I'm starting not to feel as safe [on campus] walking around," said Taylor Glass '23, a first-year student who lives in a dorm on Chatham's Shadyside campus.
Many students have suggestions for increasing safety on campus. Some female-identifying residents have said they've asked their male-identifying friends to walk them home at the end of the day. Some students also have started to carry pepper spray as a precaution.
"I would say that more campus security should be posted down at the apartments because that's where [most of] the reports are coming from," said Sierra Short '22, a resident in the Chatham apartments. "Additionally, it would be beneficial to have designated floors in regard to the library for community and then for student and faculty access."
If there is an emergency situation or a student does not feel safe, they should contact campus police immediately at 412-365-1230. According to the University website, students also can email Chief Townsend at [email protected] with any Under the Clery Act, U.S. colleges and universities are required to make information about crime on campus available to the school's community. Students, faculty and staff also are encouraged to register for the on-campus emergency alert system ChathamAlert at Chatham.edu.