Greenhouse beside Buhl Hall used for faculty, student research
The greenhouse outside of Buhl Hall is off limits to the general student population. The facility is used to cultivate plants for teaching or for samples, and it serves as a controlled environment to conduct faculty research. Chatham University first obtained the greenhouse as a senior's ecology capstone project.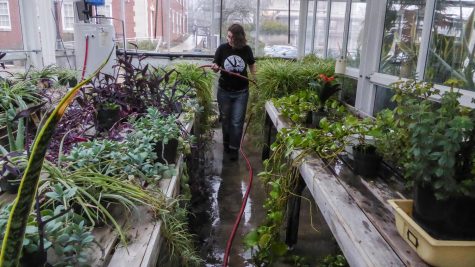 "People come through me if they want to get anything from the greenhouse," faculty supervisor of the greenhouse, Dr. Linda M.K. Johnson said. She takes samples from plants and prepares them to be used in labs for classes.
Pencil cactuses, spiderworts, papaya plants and night blooming cereus are just a few of the plants in the greenhouse. After spring break, plants will be propagated and sold. Students interested in exploring the greenhouse should consider a botany minor.
"I am investigating how plants respond to pure white light compared to the light that comes through the greenhouse," said botany minor Meghan Harris '22. Because some wavelengths of light are absorbed by the clouds in the atmosphere, Harris wonders if plants growing in the greenhouse will grow differently than those subjected to pure white light.
However, Dr. Johnson advises against centering an entire capstone project around the greenhouse because it's unreliable. In the winter, the windows can open resulting in the loss of heat and damaging plants.
Because of the cost of repairs, it's unknown when the greenhouse will be fixed. The University's latest masterplan for the campus included enlarging Buhl Hall. One of the options would include eliminating the greenhouse int hat expansion, and constructing a new rooftop greenhouse at Buhl.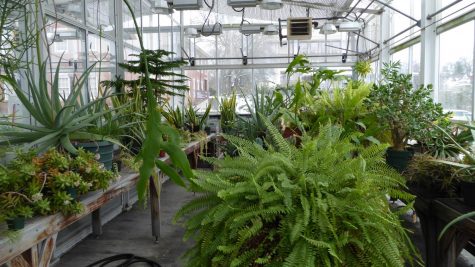 The greenhouse uses solar thermal energy for heating. The panels keep the plants warm during the winter by capturing solar radiation and converting that to antifreeze, which then circulates the interior of the building. The extra energy collected from the building can also be used for hot water resources, space heating and cooling.
In the summer, a shade is rolled out on the roof to reflect sunlight. This prevents the greenhouse from getting too hot. Currently, there is no cooling system. The only ways to decrease the temperature are opening windows and using the reflective shade.
This summer, there will be an opening for a part-time position to care for the plants, which involves watering, stopping insect infestation and watching for signs of disease. The job will be posted on Handshake, where students can learn more and apply.
McKenna DiRienzo contributed to this story.