A timeline of Chatham's COVID-19 return-to-campus plan for fall 2020
In the months after the end of the 2020 spring semester, it was unclear what Chatham University students could expect when they returned to campus in the fall because of safety concerns and restrictions prompted by COVID-19. 
In a series of informational emails, Chatham administration laid out its plans for a return to campus, which prompted many student reactions. This is an account of some of those most pressing updates from University personnel. 
 May 4
President Dr. David Finegold sent an email, informing students about what to expect during the fall 2020 semester. He expressed that the Chatham experience has always been about "coming together." He also said the Chatham administration was intent on looking into how operating on campus could work with "enhanced social distancing guidelines." 
This was the first time students were told about an assemblage of University Task Forces. Their job was to plan for different possibilities of a return to campus. President Finegold ended the email by promising the task forces would finalize and share their plans for campus operations by early June. 
 June 4
An email from Dr. Heather Black, Dean of Students, focused on Allegheny County's transition to the "Green Phase," the least restrictive phase in Gov. Tom Wolf's tiered COVID-19 shutdown plan. Dean Black wrote, "I am happy to share that Chatham is beginning a phased plan to open offices and face-to-face operations in the coming weeks as Allegheny County transitions to the Green Phase."
She forwarded an email President Finegold sent to faculty and staff. It explained the dates for which select departments would return to work on campus and what all campus community members should expect upon their return. 
"All employees and students reporting to campus will be required to receive daily temperature checks, engage in physical distancing, wear masks and follow other Chatham, CDC and PDH guidelines," he wrote. 
President Finegold finished the email by writing, "In addition to the Green Phase plan outlined here, the initial fall 2020 Operating Plan developed from the ongoing efforts of the Working Groups is being shared with the Board of Trustees this week. Following the Board's feedback, the plan will be shared with the campus community the week of June 8 for review and feedback."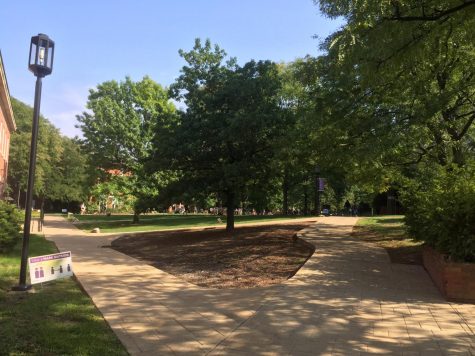 June 12
President Finegold sent an email titled "Return to Campus for Fall 2020." The message explained the reasoning behind the return to campus and the results of the University's task forces. 
President Finegold argued there is a "value of being physically present on campus." He went on to write that, due to the increase in knowledge about the virus and how to mitigate it, Chatham was committed to reopening its campus this fall.  
"Since April, a series of cross-campus working groups have been working on scenarios, considerations and plans for operations in the fall," President Finegold wrote. He explained that Chatham consulted a variety of public health and healthcare resources to inform the decisions of the various working groups. Some of these sources included UPMC, the U.S. Centers for Disease Control (CDC) and Pennsylvania's Department of Health. 
The results of this work can be viewed on the University's new fall 2020 website. President Finegold invited the campus community to leave questions and feedback. He noted that the website would be updated weekly and signed off with a message of solidarity. 
 This information was followed up by an email from Walter Fowler, Senior Vice President of Finances and Administration, about a limited reopening of Chatham's campus, starting on June 15. 
A corrections email was then sent. It explained that all buildings on Chatham's campus would reopen, except the Athletic and Fitness Center and Jennie King Mellon Library — which would open at the end of the month and in July, respectively. 
 July 22
Dean Black introduced the Cougars Care commitment, which was to be completed by Aug. 7. Dean Black wrote in the email to students, "Cougars Care is an initiative to provide support, resources, videos and training for our ongoing collective effort towards a safe and successful fall term.  It will take all of us, caring for one another and doing our part, to keep our community healthy."
 July 27
 Academic Affairs sent an email with high importance. Addressed to students, it spoke about the requirements to make academic changes for students with health conditions. 
Academic Affairs wrote, "In support of individuals with medical conditions who feel that attending in-person classes may exacerbate those conditions, Chatham University is providing the opportunity to request academic adjustments for the fall 2020 term. In order to request adjustments, medical documentation will be necessary."
Academic Affairs further explained that, even with adjustments, not all classes would be provided virtually and may not be possible for cohort programs or specific sequential classes. 
All documentation for an academic adjustment was due Aug. 14 and for review by a committee coordinated by the Office of Academic & Accessibility Resources (OAAR). The committee's decision would be told to students by email and all decisions would be final. 
July 28 
A petition on Change.org was created by Audrey Bodenlos '22 and Emer Straw '21. The petition was titled "Chatham University Fall 2020, Virtual Class Option." It was created in response to the email from Academic Affairs the previous day, and stated, "Chatham University must allow any student the option to attend classes virtually no matter the reason during the COVID-19 pandemic." 
Straw also noted in the petition that "forcing students to return to in-person classes unless they have a medical condition they can prove creates a dangerous situation on campus and doesn't follow the precedent being set by other schools such as CMU and the University of Pittsburgh. Not allowing students to choose whether to return in person or not puts students, faculty, family and the whole Pittsburgh community at greater risk of illness and death as cases of COVID-19 in the city continue to rise. There is no humane reason for not giving students the option of virtual classes to protect both themselves and the community."
The petition received 428 signatures and was signed by both students and some faculty members. 
When asked about this initiative, Bodenlos said, "This petition was created by a couple of random students who just felt passionately about this. … Chatham is a small school and it's relatively easy to get into contact with the right people to at least try to make change. If you want something done, the first step to do is try." 
Straw added, "We created the petition because Chatham was not being clear at all about what their plans for the fall semester were and we felt students deserved a choice about how they attend their classes during a deadly pandemic. No one should be forced to risk their life or health to get an education."
July 29
President Finegold released a message that another update to the "Fall Plan" would be sent to students Aug. 4. This new update would address the concerns raised by the petition. 
This update would include "changes to the fall course schedule and instructions on finding which courses will be available in varying delivery formats, including virtual and online options for those students who do not feel comfortable returning to campus this fall for non-medical personal reasons."
On the subject of the Academic Affairs email sent on July 27, President Finegold wrote, "We realize that it was not clear from that email that additional information on available options for those with other personal reasons for not coming to campus would be forthcoming, and sincerely apologize for any confusion the email may have caused."
 Aug. 4
Academic Affairs sent a follow-up email about the course delivery options for students during fall 2020. It explained that it would not be possible to provide every class in a virtual or online format. Ultimately, it would be the decision of the course professor to decide the delivery format of the course. 
Academic Affairs wrote, "If a student is registered for classroom-based courses and does not feel comfortable attending class in-person, they should search the course schedule for courses listed as an online or virtual format."
It was advised that students work with their academic advisers to find course equivalents and substitute courses as needed, but if students could not find an alternative course, they should submit a request form to their adviser, department chair or program director to adjust their fall schedule. The official add/drop period would now end Sept. 1. 
In response to Chatham's decision, outlined in the Aug. 4 Academic Affairs email, Bodenlos commented, "I think it's also important to notice that Chatham never truly gave students a school-sanctioned virtual option. This is still something that you have to work out with each professor on an individual basis. I understand that it may not be possible to make everyone be virtual … however, I believe that Chatham administration should have enforced all professors to come up with a completely virtual option for every single class."
 Aug. 5
In an email, Dean Black asked all students to self-isolate at home for 14 days before arriving on campus. She discouraged "goodbye gatherings" and encouraged students to limit their exposure to those who do not reside in their home environment. 
If students could not isolate for the 14-day period, they were asked to follow health guidelines and "observe all the behaviors that are part of the Cougars Care Commitment when working and avoid any other activities outside your home."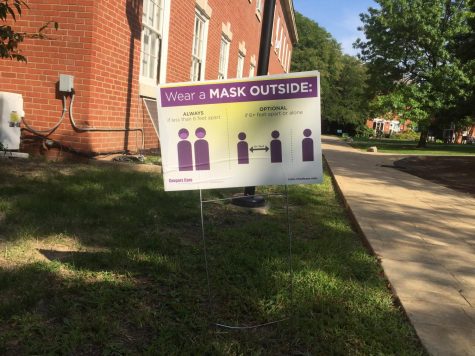 Aug. 11 
Dean Black requested all students to update their personal information on the student portal by Aug. 23. This would aid contact tracers when needing to get in contact with those exposed to positive COVID-19 cases. 
"As part of our efforts to protect against the spread of COVID-19," Dean Black explained, "Chatham has trained a team of staff members to act as contact tracers in the event we have a positive case on campus.  Contact tracing is a process used to contact all individuals who have been within a 6-foot radius for more than 15 minutes of the positive case."
Aug. 14
Parkhurst Dining informed students via email on what they could expect when eating on campus during the coming semester. While a dining option would still be provided, there would be limited seating. 
Robust take-out options would be available to compensate. 
"There will also be satellite stations [Monday through Friday] for lunch at various areas on the Shadyside campus.  We also have an enhanced disinfecting program, as well as, Safety Ambassadors on our teams," Parkhurst reassured students in the email. 
A list of places students could use their meal plan was provided at the bottom of the email. It included all campus locations and partnerships with Pittsburgh restaurants. 
Aug. 19 
Chatham University Communications informed students to when they would and would not be required to wear a mask while on campus. Based upon the list in the email, masks would be required everywhere, except when alone in closed spaces and outside, if possible, to maintain social distancing. 
"Chatham will provide all students and employees with masks to supplement any masks they already use. If anyone forgets their mask, or it becomes damaged, they can pick up a replacement at the Office of Student Affairs, too," according to the email.
Aug. 20 
Dean Black sent an email labeled as high importance to all students. In it, she wrote, "This week, the County had reports of college parties in Pittsburgh, and discussed with all of the local colleges the importance of our students following health and safety guidelines to avoid a repeat of what happened in June and July."
Dean Black warned that "if parties and flouting of health and safety guidelines continue to occur, the county or city could well take steps that will greatly impact and limit your experience this academic term!"
She reminded that actions, like gathering without social distancing, are against Chatham's honor code. 
Aug. 21 
Dean Black provided students with information on how to receive a COVID-19 test. Students with symptoms or informed by contact tracers that they may have been exposed must get a COVID-19 test on campus. 
To receive testing, students were told to first make an appointment with Student Health Services. At the time of their appointment, they should report to the two tents behind Woodland Hall. A student should know the test results in about 15 minutes after the test and receive instructions based upon the result.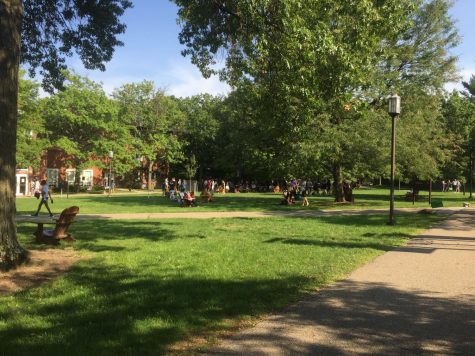 Fall 2020 semester begins 
Since the beginning of the fall semester, the majority of updates about COVID-19, and Chatham's plans to combat it, have been provided from the Cougars Care community emails that are sent to all students weekly on Fridays. Most recently, on Sept. 11, the community update included information about Chatham's first positive case of COVID-19. 
A link to the website further explained that "Chatham was informed [Sept. 10] (through self-reporting) by a member of the campus community that they tested positive for COVID-19. The last time this community member was on campus was Friday, Sept. 4, and the community member is currently isolating at home off campus."
Previously laid out protocols of contact tracing and testing were being followed. Weekly community updates will continue to inform students of Chatham University's plan to combat COVID-19.