Chatham health screenings aim to catch COVID-19 symptoms
In response to the COVID-19 pandemic, Chatham University has instituted daily health screenings. All students, faculty, staff and guests are required to receive a screening before entering any campus facilities.  
The goal of them is to catch a possible case of COVID-19 by examining symptoms and risks. For the most part, student health screeners and staff feel the system is going smoothly.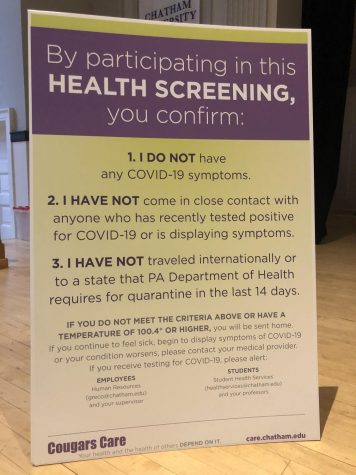 During the screening, individuals are asked if they have any symptoms of the virus, if they know anyone who has contracted COVID-19 or if they have traveled outside of the state or country. If the answer is "no" to all the questions, people then have their temperature checked using a no-contact thermometer. 
Those with a temperature that's higher than 100.4 degrees are asked to return home, monitor symptoms and receive medical attention. Everyone else receives a color-coded card with the day's date to signify they received their screening. 
On the Shadyside campus, health screenings can be obtained at the Athletic and Fitness Center, the Campbell Memorial Chapel and Eddy Theatre.  They are also available on the mezzanine level at Eastside and in the Esther Barazzone Center on the Eden Hall campus. Hours are listed on the Chatham website.  
"I think how we have it set up is a very efficient process because there are multiple locations, three locations at Shadyside with easy access," said Rebecca Yost, a screening supervisor and Chatham's head swimming and diving coach. "We open it at a time where if you have an 8 a.m. [class], you have an hour to be screened. Very accessible. If you ever need to be temp screened, you have the opportunity to do that." 
Students see the benefit of the system, too. 
"I think it is good. It is not as accurate [as a test], but if someone is sick, temperature screeners will know if someone has a fever," said Haley Robbins '22, a student health screener. "It lets us know if something could be wrong."  
Juliana Stine '24 said on a scale of 1 to 10, she'd rank the effectiveness of the process as an 8, and feels it's "like a daily checkup."
"It is effective for pointing out symptomatic people," she said. "However, if people don't get their temperature checked, there is only so much it can help."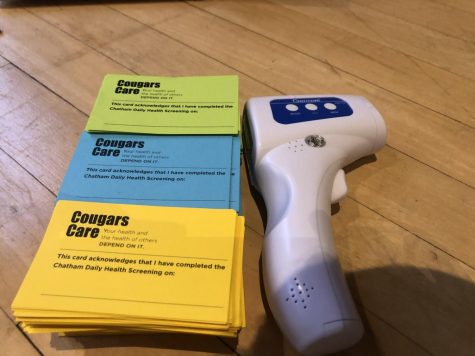 Health cards are required to enter most Chatham facilities; however, members of the Chatham community have reported that the only places that regularly check for them are Anderson Dining Hall and the Jennie King Mellon Library.  
"I am just concerned that the only places that require to see them are the library and Anderson. Classrooms don't," said student health screener Phallon Kilduff '23. 
Another concern regarding the screenings is that individuals could use another student's card to gain access to campus buildings, but Coach Yost and student screeners believe that most people on campus are complying with health screening regulations and remain committed to the Cougars Care pledge.