Steel Currents: Same brings something new to Pittsburgh's music scene
Steel Currents is an occasional series in which lifestyle editor Wyatt Cory spotlights Pittsburgh-based bands and musicians that Chatham University students should keep on their radar.
Getting to know the Pittsburgh music scene is unlike anywhere else. With rich history and big names to come out of Pittsburgh, you would imagine that it would be similar to other cities such as Philadelphia, Chicago or Los Angeles. In reality, Pittsburgh has developed a diverse talented group of musicians that often gets caught under the radar.
"If you don't live here it's hard to know what it's like," says Tom Higgins, the lead guitarist of Pittsburgh-based band Same.
Higgins, along with Jesse Caggiano (bass, vocals), Jamie Gruzinski (drums) and Jake Stern (guitar, vocals) started Same in 2015 after Higgins and Caggiano left another Pittsburgh band, Naked Spirit. Through chance and their knowledge of Pittsburgh's independent music scene, Same was formed and ready to try something new with its music.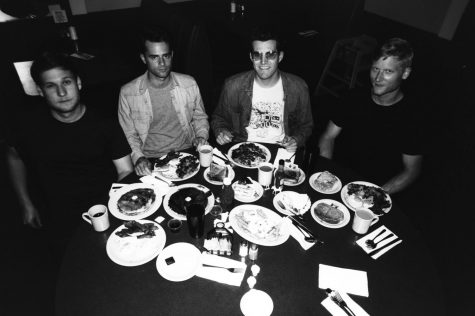 Same is releasing new music this month, with a chance to catch it perform outdoors Oct. 17. 
The band members wanted to explore something beyond their traditional alternative rock pasts.
"Jesse and I wanted to try some more experimental stuff. … We were getting into bands like Joan Of Arc and Sonic Youth," Higgins recalls. "We wanted to make it in the same vein as our old band, but with the freedom to try some weird stuff."
The '90s alternative rock influence is unmissable when you listen to Same's discography. The group often sounds like Pavement 2.0, but with each release being something a little different from the last.
To keep the band moving in new directions, each member listened to different genres on their own to get ideas for other influences to incorporate.
"If we are all listening to the same thing, we are just going to write music that sounds exactly the same without even knowing it," Higgins says.
This devotion to being different makes Same stand out, compared to other bands like it. There's a mentality that's shared between the band members that anything can happen if they keep their options open. By doing this, Same has added a new member, Brady Lanzendorfer (keys). His addition has allowed the group to continue to explore new sounds and genres.
"The goal for the band was to not have any restrictions on ourselves," Higgins explains.
Same released its debut album "Plastic Western" in May. Each song pulls from the band's past to put its own spin on something new. The album's ability to blend genres and influences and keep listeners coming back displays how talented and exciting Same is.
Luckily for fans, there is new music in the works.
Same released Oct. 13 a new single, "Gum Stand." This was the only song written for "Plastic Western" that was yet to be released. It's hoping to record a new album this fall, which will be recorded and produced by the band. Although the band members have little experience with production, they hope this challenge will allow them to experiment with fresh genres and become a more well-rounded group. 
The public can catch Same playing a set on Saturday, Oct. 17, outside Mr. Smalls in Millvale as part of its "Street Series." To mark its first live show since the release of "Plastic Western," Same plans to play the whole album straight through. 
The "Street Series" showcase that day is from 1 to 9 p.m. and will feature a sampling of Pittsburgh's bands in a safe, outdoor setting. This is a free event with a food or beverage purchase.
You can find Same on most music streaming services and on Instagram @sameband.