Majority of Honor Code complaints during fall 2020 semester related to COVID-19
Chatham made changes this summer to the University Honor Code to better communicate to students expectations surrounding health and safety protocols for the ongoing COVID-19 pandemic. 
There has been some concern on campus that Chatham students are attending parties, particularly on the heels of the University experiencing a temporary uptick in cases in October. However, official data from the University does not reflect that.
As of Oct. 30, Dean of Students Heather Black has processed 21 complaints involving the Honor Code, and Residence Life has issued 26 guest policy reminders. All but two of these instances are related to COVID-19 policies.
Of all the processed cases, seven pertained to gatherings, two pertained to the guest policy and 12 were mask violations. As of Oct.7, the University has not investigated any large gatherings (defined as 25 or more people indoors) involving Chatham students. 
Guest policy reminders from Residence Life attempt to warn students about a potential Honor Code violation before it is formally reported to Dean Black. One of the cases Dean Black processed had previously received a guest policy reminder.
It's important that Chatham students remain up-to-date on guest policy and room occupancy limits to avoid these reminders and potential Honor Code consequences.
Of the 21 cases Dean Black processed, 16 of them have been reported by Residence Life. Residence Life has also investigated four instances of marijuana odor and two instances related to alcohol as of Oct. 21. 
There have been no incidences of campus police investigating prohibited gatherings from Sept. 3 to Oct. 19, according to Chief Valerie Townsend. However, campus police did investigate a suspected odor of marijuana in the Chatham Apartments on Oct. 1 and another marijuana odor report in Dilworth Hall on Oct. 13. 
These statistics from the University suggest that no large gatherings have been completely processed or investigated by Chatham University at the time of interviews for this story. 
Student-athletes and COVID-19 policies
Student-athletes must uphold the same Honor Code guidelines as the rest of the student body. Dean Black oversees their sanctions, too. However, she also refers them to coaches or Athletic Director Leonard Trevino, who decide whether or not the students' actions warrant any additional consequences.
Consequences specific to student-athletes can be issued on top of those issued by Student Affairs. These would involve prohibiting participation in athletic practices, games or other activities.
The length of time that an athlete would be punished would depend on the severity of the event and if the student takes accountability for it, according to Trevino. It is possible that entire teams could be reprimanded if they all broke the guidelines.
Earlier this semester, the Communique received reports from students about a party allegedly involving the baseball team. Those reports were not able to be confirmed.
"I haven't seen any proof about the baseball team," Trevino said on Oct.7. "We work closely with Student Affairs. When we do hear rumors, we try to get ahead of it."
The athletic department has had some instances of student-athletes not following Chatham's COVID-19 guidelines. Trevino stressed that the school is trying not to use the word "party" to denote any gathering prohibited by COVID-19 policies. If students are not following school safety protocol for occupancy limits and masking, there is still an issue regardless if alcohol is involved or not, he said.   
At the time of the interview, Trevino stated that these instances had largely been due to forgetfulness. This was before news broke Oct.15 regarding Chatham's COVID-19 case count spiking to 18 new positive cases in a two-day period. All but one of these cases came from testing the men's ice hockey team, according to an email sent out by the University.
Taking action
If students believe someone has violated University Health and Safety protocols, they can fill out this form on MyChatham, email [email protected] or email Dean Black directly at [email protected]. 
The form allows students to submit information anonymously.
"My caution with anonymous forms is keep in mind that I might not have all the information I need to necessarily move forward," Dean Black said. 
There have been eight COVID-19 policy reminders issued by the Honor Code. These policy reminders are a result of Dean Black not having enough information from anonymous reports to pursue a full case. Students should include as much context about the situation as possible and the name of the student suspected of violating the Honor Code when submitting information anonymously.
If students provide their name, they will receive a notification that their report has been received. Dean Black and her designee, someone that Dean Black has appointed to oversee an Honor Code case, work with students in cases to the extent that the student is comfortable.
Processed complaints, if found to warrant sanctions by the University, can be solved with informal or formal resolutions. Off-campus and on-campus Honor Code complaints are processed the same way.
Informal resolutions
Informal resolutions are typically reserved for minor or first-time offenses, such as forgetting to wear a mask or properly distancing. They result in a judicial meeting with Dean Black to talk about the case and for the students to present their side.
Multiple violations are still treated as a first-time offense if Dean Black does not have the chance to meet with a student. However, the amount of reports and severity of them influences the sanction. For example, if a student fails to wear a mask to class and is reported by a professor, and then, later that day, fails to wear a mask to Anderson Dining Hall, these multiple violations are still treated as a first time offense so long as Dean Black has not yet met with the student. 
Formal resolutions
Formal resolutions are generally received for repeat or severe offenses. Reports are processed over an Administrative Hearing or through the Judicial Board. The method that is chosen depends on the case.
Administrative Hearings involve Dean Black or an experienced designee from Student Affairs hearing the case. 
The Judicial Board consists of a student, faculty member, and administrator. A pool of student Judicial Board members are chosen by Dean Black each year. The students that hear these cases are chosen to reflect the Respondent's graduate or undergraduate status.  Actions that may result in suspension or other serious consequences are generally handled with the Judicial Board.

Both of these methods function similarly to how a standard court hearing would proceed, with both parties potentially presenting evidence, witnesses, and testifying. 
As of Oct.7, none of the cases that have been processed by Dean Black have resulted in formal resolutions. The informal resolutions have been educational warnings the majority of the time.
Educational warnings result in the student taking accountability for their actions. It may involve steps such as composing a reflection on the incident or doing community service.
Educational warnings are not present on a student's conduct file, so they are not on the record for other universities or potential employers to access. Other statues of disciplinary warnings, suspension and probation do go on a student's conduct file.
A student may bring forth evidence for the judicial hearing process, but Dean Black does not share the identity of the student who reported the incident to the student being investigated. However, the student still may be subject to the process of elimination.
Trevino hopes students, particularly student-athletes, remain vigilant when following safety measures.
"Student-athletes, they obviously want to participate in their sport. But, having a couple students not do what we ask … puts the whole team in jeopardy," Trevino said. "We need to think about the community around us.
"We are trying to … make it as educational as possible without it being punitive," he continued. "I know it's difficult for students. … We all understand that, but we are trying to make it as livable as possible while keeping the community safe."
For more details about the University's policies involving COVID-19 and new additions to the Honor Code, students can visit the University's website. 
Leave a Comment
About the Contributor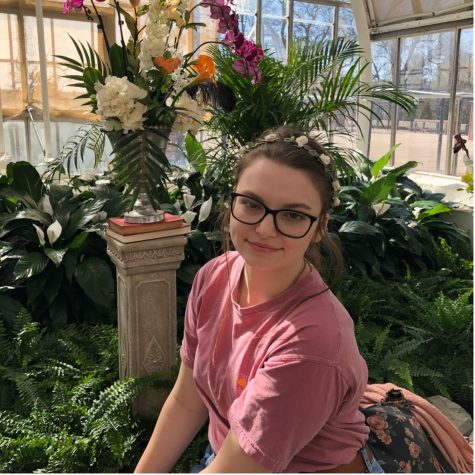 Gena Carter, News Editor
Genevieve Carter '21 is an environmental science major with a minor in journalism from Allison Park, Pennsylvania. Gena decided to come to Chatham for...