Chatham students create club to solve criminal cases with help of private investigator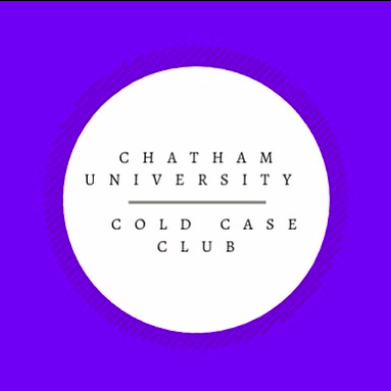 The Cold Case Club is a unique, new club at Chatham University that invites students to pursue their passions in criminology, true crime and research by solving real cold cases from around the world. 
It launched during the fall semester, and any Chatham student is eligible to join this club. The only requirement is they must sign a confidentiality contract to keep private any information they come across during the investigations that the public does not already know. 
 This club gives students the opportunity to learn how to research evidence and really dig deep for details that may have been overlooked. As of late, the Cold Case Club has had a focus on investigating serial killers around the world, one being from Australia by the name of Ivan Milat. 
 The president of the Cold Case Club, junior Rachel Wolfe, said the club is in correspondence with a professional investigator who  works for a firm in Canada. He gives the club cold cases to work on and listens to the analysis of the cases once the students are finished with their research. 
 The Cold Case Club's main focus is doing victim profiles and analyses of crime scene investigations.
 "I jumped into the club not being into crime or criminology, but I thought it was a really cool concept and I like that what we are researching is real," Hannah Perry, the Cold Case Club's secretary, said. "I like that everyone within the club has the same goal to find evidence and bring light to these cases." 
Investigating a cold case is a complex process, Perry added. 
 "It is a lot about finding details and piercing them together to come up with a good analysis of a case. There are many different factors that come into play, and it is hard to try to make a single conclusion. Even if the case is not solved, you are still trying to understand what happened." 
 When a new case is presented to the club, the first step is to hold a case briefing to give everyone an overview of that case. Then, small groups break off into separate meetings and take on certain tasks to research. 
 "For instance, if we have five victims, we break up into five groups and each group has a list of things they need to research," Wolfe said. "Then, when we are done with that research, we come back together and have a meeting with Douglas [the professional investigator] in order to present our analysis and findings."
 Students can decide how much time they're able to spend working on a case. The only caveat to joining the club is enjoying the process of doing research. 
 "When there is no prioritized deadline or time limit for a specific case, we also work on local cases," Wolfe said. "Unfortunately, some cases we work on are older. It's harder when we don't have access to certain evidence like medical examiners, police reports, court cases and forensics … but we are still able to make some leeway with creating analysis of cases." 
The Cold Case Club also teaches students real-world skills that can help them in their careers. A previous club president is a private investigator now and uses the experiences from the club in her career. Students also can include their research in a professional portfolio and use it as part of their resume. 
 "It is important to realize that the work that we are doing is real," Perry said. "If people realize [that] … then they might be more interested [in joining] as opposed to thinking we are just playing around."
For the spring 2021 semester, Wolfe has several goals, including being "focused on organization and gaining more members. I also wanted to have more open communication between members, faculty and executives of the club."
 Students who are interested in joining can email the club's adviser, Christine Sarteschi, Ph.D., at [email protected]. Students can also follow the Cold Case Club on Instagram 
@chathamu_coldcaseclub.