Steel Currents: Inside the mind of Pittsburgh indie musician Dopamine
Steel Currents is an occasional series in which lifestyle editor Wyatt Cory spotlights Pittsburgh-based bands and musicians that Chatham University students should keep on their radar.
There is something about listening to Dopamine's indie/thrift pop music that constantly keeps the audience hooked and tuned in to every aspect of every song. The broad instrumentals, the quiet vocals and the freshness that each song has really makes Dopamine stand out among fellow young musicians here in Pittsburgh.
The Communiqué's Steel Currents column recently had the opportunity to sit down with Dopamine to learn about what goes into making each song. His whole creative process was very eye opening.
"When it comes to sound, the unknown is the loveliest thing," says Dopamine on what motivates him to create.
Dopamine's approach to music is far from traditional. In an era where technology has made creating music more accessible to artists, he finds a way to stay with the times while also focusing on keeping the music as natural as can be.
"I kinda want to go back, aim to do everything first take and make it sound raw and natural," he says.
Dopamine is a proud solo project. There is a vision for every part of each song, and for Dopamine, doing everything alone is the only way to truly match that vision.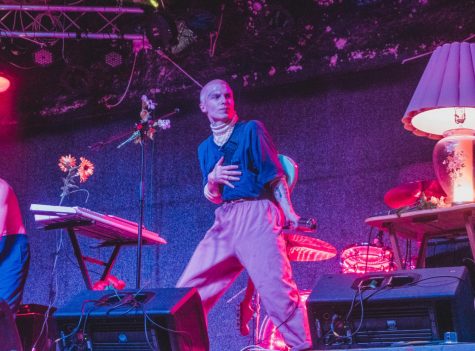 Dopamine records every part of each song himself through his iPhone before converting it over to GarageBand. This means that he has learned how to play each instrument and knows how to produce everything to match his standards. This process allows Dopamine to be constantly growing. It was very clear when he discussed his goals with music that being original is at the top of the list. 
"I'm working toward a lot of complex harmonies in my music, more big band. … I want to make new sounds that people can't recognize," he says.
In order to achieve this goal, Dopamine looks for inspiration through other artists' creative processes and not their art itself. By constantly learning, he is allowing himself to have as many creative resources that he needs to create something unique.
"Not only do I now know where [other artists] are coming from and where they are going, but now I can come up with my own meaning  and why I'm doing it."
Dopamine's devotion to being as creative as he possibly can be is something truly inspiring. There is no settling when it comes to his art and it shows time and time again.
Dopamine has started to form a performing band that features 11 members, including three female backup singers, a brass section and percussionist. Their first show together was slated for Valentine's Day.
The sky is the limit for Dopamine, and I am grateful to have had the chance to get a glimpse into what goes on in his world. I definitely recommend going through the Dopamine discography the next time you are in need for new music.
The next Dopamine release is called "emphesia." A release date has yet to be announced so keep your eyes open for any information. You can find Dopamine wherever you can stream music or on Instagram (@dopamine.m4a).