Graham Field brings in school spirit, new revenue
Waivers, permits and the lights — oh my!
Students may have noticed an added spring in lacrosse and soccer players' steps as they head off to practice on their newly renovated home field. After months of negotiations and working through a pandemic, Chatham University officially has its own NCAA regulated turf field. Graham Field is now open for action in Wilkinsburg, about three miles from the University's Shadyside campus.
The field has been a work in progress since the beginning of fall 2019 and has been a hard-fought battle to build in time for spring sports this year.
"We were probably about 80% complete [with the field] when COVID hit last March … that stopped all progress. All subcontractors weren't allowed to work," said Robert DuBray, assistant vice president of facility management and public safety at Chatham University.
As time went on and Pennsylvania reached the yellow phase regarding COVID-19 restrictions, work on the field began again in late May. However, Chatham was soon met with more challenges that further delayed construction.
"The biggest delay that we had to overcome was the slow permit approval by Wilkinsburg City Borough," DuBray said. "Their limited staffing really jeopardized our timeline."
The project had around 10 permits that needed to be approved in order to move forward with construction. With a renovation that large, timely approvals were crucial for meeting the deadline with a finished stadium.
"That permit process probably held us up for about six months on the project," DuBray said.
The construction of the field was handled as two different projects and were overseen by two different contractors. The first was the renovation of the original field itself and a new parking lot. The second project was the renovations of the stadium, including restroom facilities, the bleachers and the press box. Exterior lighting surrounding the field and parking lot was also included in the second project.
"A lot goes on in a project like this. Like when we put in exterior lighting like that, we had to consider houses around the field and make sure that it doesn't keep them awake," DuBray said. "The parking lot lights are on [quite often] and you just have to be conscious of your surroundings so you don't interfere with other people's lives."
For those who have not yet seen the field in all of its glory, a row of houses face the field from across the street. Residents near the field are directly affected by any change made to the field.
Due to the position of the field and its conversion from grass to turf, renovations had to include a plan for a runoff system so water would run into appropriate sewers and not damage surrounding homes.
"I believe that the accomplished work effort has improved the quality of life for all of the neighbors. [The new system] actually reduced the amount of flooding that used to occur," DuBray said.
The field was finished in February in time for lacrosse and soccer's competitive seasons. Players are happy to finally have a permanent home so close to campus.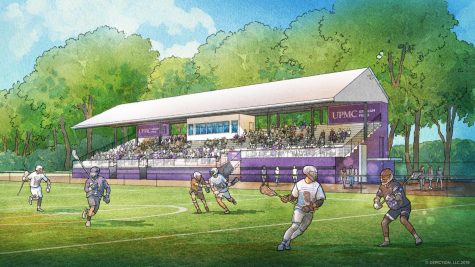 "The new field is so incredible to play on, it's full size unlike the varsity one on campus so it allows us to have realistic game play and practices," said lacrosse player Bailey Donofrio '23. "Rather than borrowing a high school field, we now have our own home field for friends and family to watch and I think that is way more exciting."
In previous years Chatham University had to acquire a waiver in order to be able to use the varsity field located on campus. The varsity field is not NCAA regulation sized and was only temporary until Chatham was able to find an area large enough to put in a field that fit requirements. In the past, both the soccer and lacrosse teams have utilized Ellis high school's field for game play.
The new Graham Field is turf which encourages safety for players as it is more cushioned and there are no hills or holes in the ground that the players could get caught in while running during the game. The stadium also includes new locker rooms and an athletic training room.
"It's a really nice facility," said soccer player Sam Franke '23.
A new field is an exciting boost for school spirit. Rather than driving to a local high school, students can now support their cougars in a field that is all their own.
"We hope that the Chatham community will come and support the teams and create a fun atmosphere for both student-athletes and spectators," said Chatham's athletic director, Leonard Trevino.
Not only does a new field create a fun atmosphere, it creates a more competitive one as well. Having a field for their own use has given athletes a boost in their competitive drive.
"[The field] definitely provides more school spirit and more support for athletes," Donofrio said. "It's amazing to come back to our own place and play together [as a team] again."
New field, new opportunities
There is more potential for Graham Field other than an increase in school spirit. There are multiple opportunities to bring in revenue for the school. Teams in the surrounding area are able to use the field for their practices and games, as well. This brings money in with the use of the field and advertising for the University, with the logo being all over the facility.
"The original plan [for the field] was actually a partnership between the city of Wilkinsburg and Chatham University. It was supposed to include things like youth football, the Imani Christian Academy, and I know that our athletic director has worked to include other schools so they can have access to the field as well," DuBray said. 
There are three high schools currently utilizing the field along with Chatham's teams. While University teams have priority, Graham Field is meant to be an added benefit to the surrounding community. The stadium provides a safe field with updated amenities for local teams to use during their seasons.
While there have been whispers on campus of the field's completion opening possibilities of new sports being added to the Chatham Athletic program, there is currently no plan regarding the creation of more teams.
"At this time we don't anticipate adding any sports. Graham Field was built for collegiate lacrosse and soccer," Trevino said. "The football field is able to host the community youth football program."
Make sure to stop by the field to support the Cougars in their upcoming games. For more information about Graham Field, visit Chatham's website. For updates regarding Chatham athletics, visit gochathamcougars.com.