Steel Currents: Gaadge releases its debut album
It is every musician's dream to sign to a record label and start the process of releasing your first album. This dream recently became a reality for shoegaze's hottest upcoming band, Gaadge.
Gaadge (with two A's), was started by Mitch DeLong in Erie, Pennsylvania back in 2014. In 2016, Delong made the move down to Pittsburgh, where he added Andy Yadeski (guitar), Ethan Oliva (drums) and Nick Boston (bass) to complete their lineup.
It is here where Gaadge signed with Pittsburgh-based label Crafted Sounds and began working on their first studio album called "Yeah?" 
"Yeah?" is DeLong's first experience writing music alongside a full band and label behind him. For some, this is a hurdle that can be hard to get over, but for DeLong, "It came out exactly how we wanted it."
DeLong found that having people share this journey alongside him has proved to be a big motivator to work on creating the best sound the group can.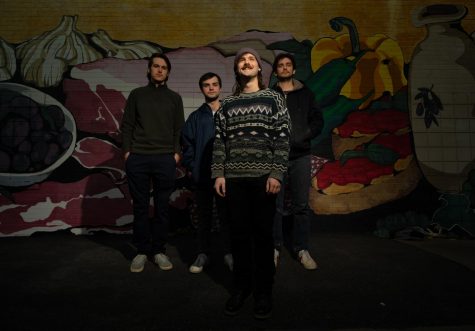 "It is as much of a support system as it is people contributing to create music," DeLong says.
A major contributor to Gaadge's support has been its label, Crafted Sounds. It's worked with some of the area's best artists and helped Gaadge stay inspired through the album-writing process. 
"I was very, very excited when they told me they wanted to put [our album] out," Delong says. "Having the label to help push our work out has been incredible."
All of this came together once it was time to start writing and recording. Gaadge found a "shattered process," where everyone was doing their own thing that eventually blended together to form a new song. This process opened the doors to experimentation and genre bending, which is highly prevalent in their newest singles "All You Can Absorb," "Do  What Now?" and  "Twenty-Two."  
When asked about how transitioning into the Pittsburgh scene has been, Delong described it as the perfect fit. As a high schooler, DeLong and his friends used to take trips down to see shows at venues like Roboto and moving down here has linked the past with the present.
"It is cool to become familiar with all of these places I used to visit," DeLong says.
DeLong has felt such a large amount of support from everyone so quickly that it has really made Pittsburgh feel like home.
Gaadge released their debut album "Yeah?"on music streaming services and online at www.craftedsounds.net on March 19. Be sure to keep your eyes open for more to come from DeLong and Gaadge.