Fall 2021 update: Chatham's vaccine policy will depend on voluntary rate, health guidelines
Chatham University expects to return to in-person instruction in the fall, but it will require entry testing for students, have a hybrid orientation for incoming first-years, and will likely still perform intermittent testing and contact tracing. 
The University is currently deciding if vaccination should be mandatory for key campus groups, like those living on campus, and what other residence hall mitigation measures will be enacted for the fall 2021 semester. 
Before making any final decisions, Chatham is waiting for information on the campus's voluntary vaccination rate and updates to health guidelines. 
Dean of Students Heather Black said that a few committees are working on coming up with what will happen next fall. Black is on a summer/fall planning committee with representatives from various groups on campus, including residence life, athletics and academic affairs. 
Some things have been determined about next fall, but many things remain unknown.
Chatham's potential policy for vaccination and entry testing
It is still unknown if Chatham will make COVID-19 vaccines mandatory in the fall. For now, though, it is not a requirement.
"At this point in time, we have not made that decision, [but] I don't think it's something that's off the table," Black said. "What we're looking at more is if there are targeted groups that we should have vaccinated. For example, residents on campus."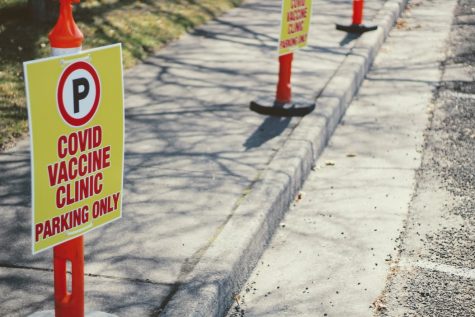 Chatham students were asked to fill out a survey earlier in the semester about their vaccination plans.
"We know from what we've seen and what research we've done that we can mandate vaccines, but we're trying to understand whether or not we should," Black said. "The survey data shows that most people in our community plan to be vaccinated. Since most folks plan to do it, will we achieve herd immunity [without mandatory vaccines]?" 
Chatham may release another survey before next fall to determine the vaccination rate of Chatham community members, and determine if vaccines do have to be mandated for certain campus groups.
Next fall, students will be subjected to some sort of entry testing. Students, faculty and staff will need to show proof of vaccination or be tested upon coming to campus. 
Testing and contact tracing during the fall semester are also likely. However, Chatham has not decided what that will exactly look like, according to Black. It will depend on what the guidance is from the CDC and state and county health departments. 
Policy changes depend on the community's willingness to participate in vaccines.
"We're hoping that we don't have to mandate vaccinations because of the survey, but we also need everybody to go get vaccinated. Because if we're not achieving 70-80% of people vaccinated, then we do have some risks within our campus community."
Residence hall occupancy limits and first-year orientation
According to Black, some residence hall restrictions may be lifted by next fall.
"It is our hope that we'll return to a more normal residency, and that's what we've communicated out to all the students going through room selection," she said. "I think we'll probably still have some mitigation efforts in terms of occupancy and things like that. … Our hope is to return to a more normal living environment for the health of our community members because we know it's hard on them."
Orientation week next fall will most likely be similar to last year's, with some limited in-person events and virtual activities incorporated throughout. 
Current unknowns exist with governmental guidelines, making planning difficult
According to Black, the summer/fall planning committee is currently trying to determine:
What does it mean to return to a "normal" occupancy? What factors need to be considered and go into place? 

Where does Chatham fall in terms of the CDC, Pennsylvania Department of Health and the Allegheny County Health Department guidelines? 

How do these interact to allow Chatham to return safely in person?
One of the challenges with dealing with guidelines is figuring out where Chatham fits in. Sometimes, there's higher education guidance available. Other times, guidelines refer to businesses, and the language is unclear as to whether or not Chatham is considered part of a particular category. 
"We're hungry for better guidance on what it means when you hit a certain vaccination point within your community," Black said. "Does that mean that the CDC is going to shift their recommendations related to physical distancing? Does that mean that some of these occupancy pieces are going to change, and we're already seeing that in the shifts within the community?"
Much of what is going to be decided about the fall 2021 semester will take place over the summer. Students can stay up to date by checking their email and the Chatham website. 
Post-pandemic life will be different
"One of the things that I hope for is this can truly start to shift our culture around working when sick and coming into public spaces when sick," Black said. "We lived prior to the pandemic in a culture where you did push through. I remember sitting in meetings coughing and just not feeling well.
"My hope is that we can, A, on days like today when I'm not feeling my best I can still work from home and keep my meetings, but, B, if you're sick stay home and get better," she continued. "I think that's a huge shift in our society that we have to make, and I hope at Chatham that we can continue that messaging."
Students are encouraged to reflect on what worked for them in a virtual environment this academic year and what didn't before returning to a more "normal" learning environment in the fall. For example, if students commute to campus, maybe Zoom is a better option on days that it's difficult to get to Chatham. Or, if students aren't feeling well, they have the option to still attend class online.
"I hope that we learn and grieve everything that's happened," Black said, "because it's been such a hard year, and we've all lost things and acknowledge that, but also I hope that we can look at the things that we've gained. I think I've gained some valuable things. I am trying to be better as we come back to campus next fall."