Chatham's athletic program experienced growing pains, now heading in right direction, says AD Trevino
Maggie Susa, Contributing Writer, Former Editor-in-Chief
April 28, 2021
The Chatham University athletic department replaced at least 14 head coaches after 2010 — 13 of which were hired between 2015 and 2020.
Almost 100% of Chatham's current head coaches were hired in the past five years, and that's not because of the switch to co-ed or the number of new sports added. Women's lacrosse coach, Alyssa Batty, and men's soccer coach, Keith Danley, are the only two first coaches in their sport, despite the fact that Chatham has added six new sports since 2015. The new sports are men's basketball, men's ice hockey, men's soccer, baseball, men's lacrosse and women's lacrosse.
The average number of coaches replaced since 2010 across the President's Athletic League (PAC) is about 10. The PAC includes W&J, Westminster, Geneva, St. Vincent, Bethany, Grove City, Franciscan, Waynesburg and Thiel.
The only schools who replaced more head coaches than Chatham in the past 10 years are Thiel at 17 new coaches and Franciscan at 22 new coaches.
Why do coaches come and go so quickly from some schools? Many head coaches in the PAC cited reasons for leaving their position such as a promotion or retirement. Three of the coaches at Franciscan were interim, meaning they agreed to coach for only one season while the athletic department searched for a permanent coach.
None of the coaches who left Chatham were at retirement age and few of them have publicly shared reasons as to why they left, especially the more recent ones.
Former women's basketball coach, Mark Katarski left in 2011 after six seasons for a position at a Division Ⅰ school. His successor, Sandra Rectenwald, resigned in 2018 after seven seasons due to "family reasons." But more recent coaches, including Jon Morrow, the cross country and track and field coach, and Phil Dodson, the University's first men's lacrosse coach, both left quietly without a statement after three years.
Morrow described his main reason for leaving as "inconsistent messaging" from the University's athletic department.
"First they told me I needed to recruit a lot of people so I did, and then it became 'your roster is too big, just focus on winning.' And then they come back and say 'your trips are too expensive,'" he said.
All coaches interviewed for this story said that coaching, at any school, is a job that takes a lot of time and energy.
"My athletes knew they could come in at 7 a.m. or 7 p.m. and I'd probably be there," Morrow said.
Athletic director Leonard Trevino said he feels the messaging has been pretty consistent since he started in 2015.
"We ask all coaches to be competitive, it's not Division Ⅰ, you don't have to win a championship, but you have to be competitive after a couple years and you have to fill your rosters," Trevino said.
A former swimming coach, who left around the time that Chatham switched to co-ed, described a similar experience to Morrow's but also said that it seems like the athletic program is heading in a better direction than when she was there.
"There was a transition of probably six different people who were the athletic directors in the three years that I was there," she said.
During that time, athletics reported to the Office of Student Affairs.
She cited a former dean of students as the reason why "50% of the coaches left" and why there was so much turnover with athletic directors.
Former women's ice hockey coach Jason Evans said he left Chatham because, "I had at least six or seven athletic directors in my time there. Constantly having to show my value was frustrating at times," he explained. "We took limited resources, in comparison to the teams we were playing against, and maximized those to make us look like a destination for quality student athletes and just fighting within the University to do basic things that needed to be done just gets difficult after a while."
As to why he thinks coaches leave, Trevino pointed to many reasons, from low salaries to facilities and high standards.
"We hold standards on recruiting and we hold standards on coaching. I think for some coaches that's difficult," Trevino said as to why he thinks coaches leave. "We lost one coach on salary, maybe two or three coaches now that I think about it. We don't have the salary to match."
None of the coaches interviewed for this story cited pressure to recruit or low salary as their reason for leaving.
The average length of stay for a head coach at Chatham is about 3.6 years. It's the shortest in the PAC, followed closely by Franciscan at 4 years. The highest averages were Geneva at 15.4 years and St. Vincent at 12.9. The average of all head coaches in the PAC is 7.21.
Most people stay in a salaried job for about four years.
Here is a breakdown of all Chatham's known head coaches from the last 10 years and the length of time they stayed in their position: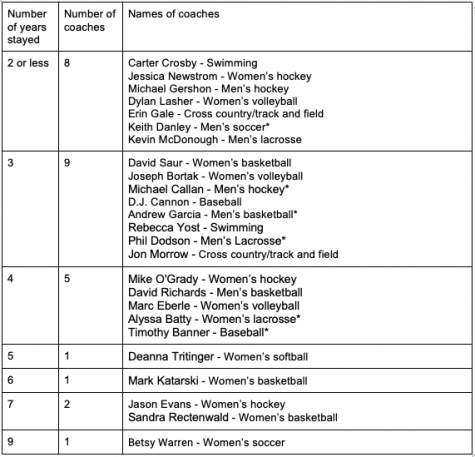 The records on Chatham's athletic website are sparse and difficult to navigate. A lot of the information about when coaches started and ended their careers at the University was confirmed from local media or other college sports websites.
Two other coaches interviewed for this story, Dylan Lasher and Carter Crosby, described great experiences. They both said that Chatham's coaching salary was "competitive" and "above average."
Lasher, a two-year volleyball coach, said he left to move closer to home and wanted to switch to coaching men's volleyball. He said that the athletic staff helped make Chatham competitive in the PAC and that they treated coaches well when it came to things such as budgeting and recruiting.
Carter, a two-year swimming coach, said that he left because of situational and life circumstances.
"I had a fantastic experience, really enjoyed working in the athletic department and across campus with administrators and professors. I enjoyed the interactions with student athletes and helping them grow as people and hopefully have a positive experience as a student athlete," he said.
Despite these growing pains, Trevino thinks the athletic program is headed in the right direction. He said the switch to being all-gender, and essentially the start of a competitive athletic program, was a big step for the University. It's still developing resources and a reputation that's appealing to recruits, but it's growing quickly.
According to Tervino, Chatham had about 75 student athletes in 2014 and now it has close to 350.
"I think the pandemic sets us back a little bit, not just athletically but University-wide," he said.
At this rate, Trevino expects Chatham's athletic program to have a better coach retention rate, as well as more wins and more student athletes, in 10 to 15 years.
"While we have had coach turnover, I think for, the most part, all of our programs by any judging of how you judge athletics are way better than they've ever been," Trevino said. "Academically, we have been stellar, and we have stayed there. Our teams are much more competitive, our rosters are much more full. The student athletes who have talked to me over the last two or three years who were frustrated about having a new coach, they're much happier."