In the Frame with Michaela Soler '21
Chatham film graduate talks working for Netflix's 'The Chair,' her passion for visual effects
Michaela Soler '21 hangs up flickering fairy lights, taping them methodically to a wall in contrast to the blue light she fixed above the windowsill moments earlier. The room glows with shades of balmy yellow and piercing blues. "Let's try another lens," she says. 
Soler and I are filming her short capstone film, "Lucid," in her dorm. Her set-up – a camera with a tripod, monitor and multiple lenses of varying sizes, changes periodically as she rearranges props,  modifies camera angles, and adjusts lighting. When her memory card stopped working, rendering five hours' worth of footage unusable, Soler swiftly changed direction, explaining what shots we could scrap, and which ones she would retake "even better than the first time."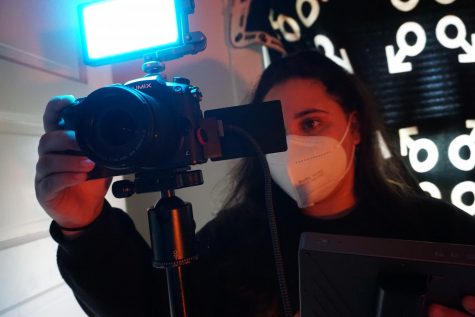 As she directs me with her camera, explaining the special effects she wants to insert and edit in each shot, it's hard not to notice the gleam in her eye that she gets whenever she talks about film. 
If you ever pulled a late night at the Art and Design Center on campus, Soler may already be a familiar face. Before the pandemic, you could catch her poring over videos and photos for hours in the computer lab, often editing projects that were not required for class. 
"She can sit and envision things before she's even put pen to paper and drawn them out," Soler's friend since high school and collaborator, Victoria Davidio, says. 
Tucked in her backpack, Soler carries a little black notebook in which she logs all of her special effect ideas and project outlines. 
"If I listen to a new song I like, I start coming up with an idea. I see something on TV where I'm like, 'oh man, they could have done this better,'  I make up a story," she says.
Soler's style is dark, mysterious and a little spooky. "Lucid," her capstone film, is a special effects statement piece about being unable to escape a dream that turns into a nightmare. 
"I love creepy. Like, 'oh snap,what's that in the background?' kind of creepy, 'there's something following her' kind of creepy. I also love anything '80s and anything that looks a little older," she says. 
Her family was hesitant — at first — when she decided to pursue film rather than a more traditional major. Then she showed them her first completed project. Her father is one of her biggest supporters, and Soler, a first-generation college student, often refers to him for feedback. The movies they watched together when Soler was growing up, from Stephen King adaptations to Brat Pack flicks, inspire her today. 
"What definitely got me into film, especially my style, is my dad. I got into horror, especially '80s horror retro-style filmmaking because of him," Soler says.
"He's the biggest voice in my head," she continues. 
The summer after her sophomore year, Soler worked 13-hour days at a café to save up for her own camera to build her professional portfolio.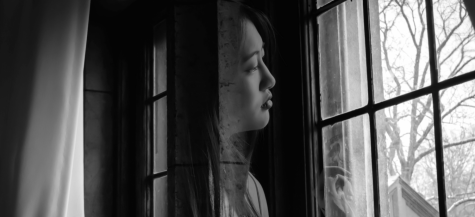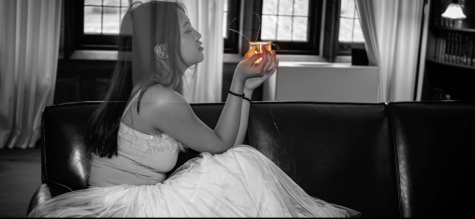 Davidio, a dancer based in Philadelphia, appears in many of the pieces as a model and actress.
"It's easy to collab with her because she's very open minded. I can balance off exactly what she needs at that moment," Davidio says. 
Together, Soler and Davidio are a tag-team. While current collaborations are at a standstill due to the virus, they are planning to film a project in New York City when travel restrictions and mask-wearing ease up.
During her time as a film student at Chatham University, she seized any opportunity to work in film in and outside of her courses.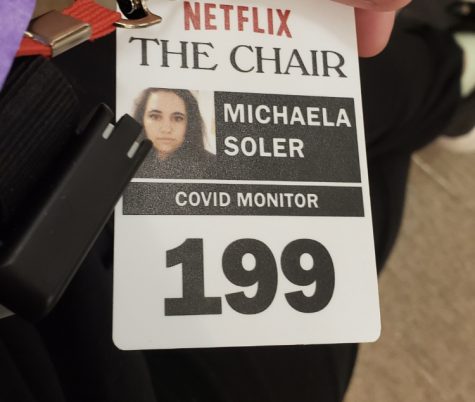 This semester, Soler got involved in the Netflix production of "The Chair" as a COVID-19 monitor, ensuring that health and safety protocols were being followed by extras. She would wake up every day at 4 a.m., then quickly freshen up and head to the crew's  "base camp" location with several other working Chatham students. The crew would meet with their gear and get tested for the virus before heading to set. For virtual classes, Soler would walk with her computer into a spare room, wherever she could find one, returning to set when her class was over. 
At one point, one of the producers for "The Chair" referred to her by name. Soler had no idea the producer even knew who she was. 
Soler says the experience was stressful, exhausting and exhilarating all the same. Parallel to taking 18 credits, she was making connections and industry friends. 
"It was so cool. How many people can say they got a job at Netflix while in college?" she says. 
Recently, she received an informal offer to work at Showtime once it begins shooting "Rust" in the Pittsburgh region. She's excited for the possibilities that await her.
Soler is unsure if she will move to Pittsburgh permanently after she graduates, to Los Angeles — where other Chatham media students, including James Garvin '19, Yundian Jing '20 and Fanghao Tien '20 have relocated — or elsewhere.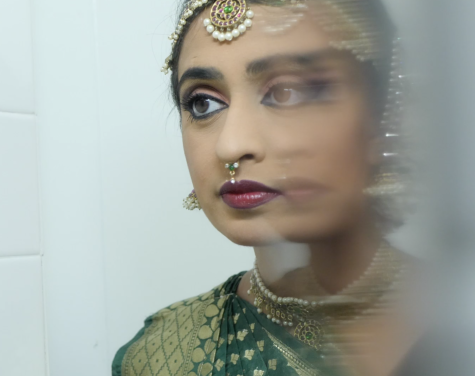 Wherever she ends up, she says she wants to work as a special or visual effects editor.
"Seeing the effects that look amazing and cinema being broken down to simple alternative solutions that look great, I think that's what drives me."
To get a glimpse of Soler's work, you can follow her on Instagram (@lux_evisions).