Culture change catapults men's hockey team to playoffs
After Chatham men's hockey team made the playoffs for the first time in program history, head coach Mike Gershon describes the immense culture shift as the reason for recent success.
Coming off a five-win, eight-loss season, the men's hockey team is looking to build upon its best season to date. In his first season behind the bench with Chatham, Coach Gershon led the Cougars to the most United Collegiate Hockey Conference UCHC wins ever. With leading scorer Carson Grainer '22 and goaltender Ricardo Gonzalez '22 both returning this season, Chatham is looking to make another run at the playoffs.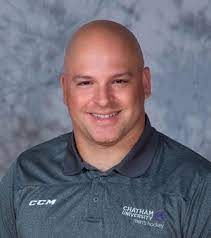 Gershon was the assistant coach at Division I program Robert Morris before joining the Chatham coaching staff. Gershon wanted to "bridge the gap between Division I and III," he said, and treat Chatham "like a Division I program." 
He brought in an equipment manager, which is rare at the Division III level. Along with the equipment manager, the strength and conditioning coach Gershon used at Robert Morris now trains the Cougars. Gershon wanted to "take the excuses out" and have players focus on their on-ice game.
Upon taking control of the men's hockey team last year in April, Gershon strived to build a culture of success. 
"He set the tone by instilling culture," said player Mike Lamison '22. 
This culture was both an on- and off-ice change. Gershon's on-ice culture revolves around a normality of winning. From winning a small arena game in practice to beating a UCHC rival, Gershon and the men's hockey team expect to win.
The off-ice culture change has been just as big of a shift for the men's hockey team. This starts with the players brought onto campus. 
"We look for really good students, guys who are really good around the community, really involved, oh yeah and they are really good at hockey," Gershon said.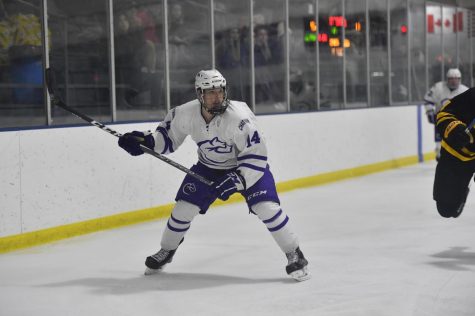 It is more than talk, too, as the men's hockey team has the highest-grade point average of any varsity sports team at Chatham. 
Goaltender Ricardo Gonzalez '22 insists that Gershon "brought a very powerful presence that Chatham has needed for a very long time." 
Men's hockey needed that presence with the uncertainty of last season due to the ongoing COVID-19 pandemic. The unpredictability of the season was made that much worse after a team outbreak before they even got on the ice. 
The team implemented strict rules after the outbreak just so they could have their season. From not being able to see each other outside of the rink to wearing a mask on the ice, the players did everything they could to play the game they love. 
Accountability is something Lamison preached about as a change with Gershon. That accountability starts from the top with Gershon but trickles down to the players enforcing it day to day. It's the players' job to have the culture they want, while Gershon provides them with the tools to do so.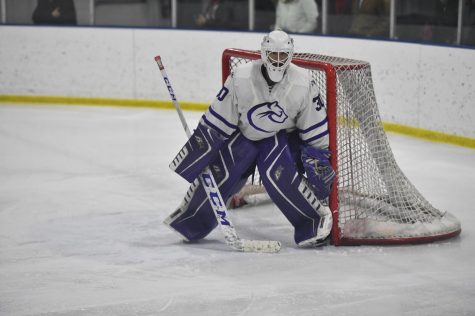 Creating history has been a focal point this past year, too. Being a new program with no real history, Gonzalez wants this team to "start a legacy" here at Chatham, he said. Gonzalez holds almost every goaltending record for Chatham, and he "hopes one day that there's a goalie that comes in and absolutely clears out those records." 
Where does the team go from here? Lamison said that in his last season he would love to "compete for a UCHC championship." Both Lamison and Gonzalez look to enjoy every second of their senior season, as well as make a name for Chatham hockey. 
The team's first game of this season at home is Nov. 6 against Stevenson at Frozen Ponds Arena.