NIL rule change helps Chatham Cougars make some cash
Student athletes at Chatham have been introduced to a new opportunity and advantage of playing a collegiate sport. All athletes are now eligible to make a profit using themselves as a brand.
On June 1, the National Collegiate Athletic Association announced that student athletes are now allowed to earn money off their names, image and likeness. This means that the next time you watch a televised sports match, you may see a student athlete trying to sell you some cool new cereal or a really neat phone plan with unlimited talk and text during a commercial break.
While you may not see a fellow Cougar on a Cheerios commercial any time soon, this rule is still a game changer for collegiate players. The new policy allows for athletes at every division to take advantage of possible sponsorships. 
"The athletic department fully supports student-athletes receiving compensation for their use of their name, image or likeness. The restrictions that are in place were established by the state of PA," Chatham's Director of Athletics Leonard Trevino said.
According to Pennsylvania law, college athletes are not allowed to use copyrighted material while using their NIL. This means that Chatham athletes can't have any University logos, as well as any logos of their conference or the NCAA, in their endorsements. 
The University, as well as its coaches, are not allowed to help students make sponsorship connections. Also, athletes can't profit off their NIL through partnerships with businesses such as adult entertainment products and services, alcohol, casinos, gambling (which includes sports betting, the lottery, betting in connection with video games or online games), tobacco, electronic smoking products, prescription pharmaceuticals and controlled substances.
The same day that NCAA announced the NIL rule change, Dave Portnoy, also known as El Presidente of the digital media company Barstool Sports, took to Twitter to announce the company's new program called Barstool Athletes.
In the posted video, El Presidente is "super stoked" to offer the new perks to college athletes, he said. Being a Barstool Athlete gives students access to exclusive Barstool Athletes merch (including a sweatshirt, T-shirt and sweatpants), free pizza, 20% discount at the Barstool store and free access to Barstool parties. All they have to do is apply. If accepted, athletes must add "Barstool Athlete" to their bios on all of their social media platforms, and Barstool will own the rights to their name, image and likeness.
Barstool has disclosed it's not sure what to do with the rights to more than 7,000 athlete names that it's accepted thus far. It's now listed as one of the largest collegiate athletic rep organizations in the country, with an average of 100 names added per day.
Since the NIL rule change, there has been a surge in many organizations that meet the needs of athletes looking for sponsorship collaborations. Influencer sites such as Sponsoo and Shake (both of which were previously dedicated to media influencer exposure) have added application options for student and club athletes. Athletes of every division are welcome to create an account in order to reach out for possible endorsement opportunities.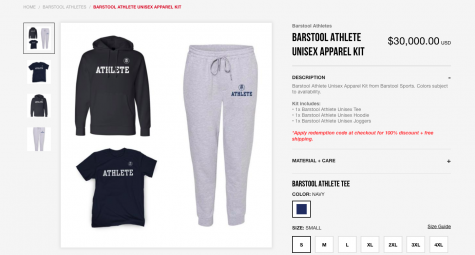 New sponsorship sites have the same concept as recruitment sites such as NCSA or Hudl. Athletes put their names and what they have to offer on their accounts and interested sponsors contact them with endorsement options. Companies have also expressed interest in athletes emailing them directly in order to discuss possible sponsorships.
Chatham women's hockey coach Mike O'Grady is excited about these opportunities.
"I do think Division III athletes can do this," O'Grady said. "It's all about branding" and athletes are "building a company." Student athletes can now create their own businesses centered around themselves, he noted.
According to Opendorse — a conduit between athletes and companies that helps the former maximize opportunities — in the first month of the NIL change, the average Division III athlete made about $47. Half of that cash came from social media promotions.  
While Chatham athletes may not be making profits at the same caliber as Division I athletes, they now can make some extra money off social media posts or appearances in commercials.