As campus vaccination rate passes 90%, Chatham considers multiple plans in case of Delta variant outbreak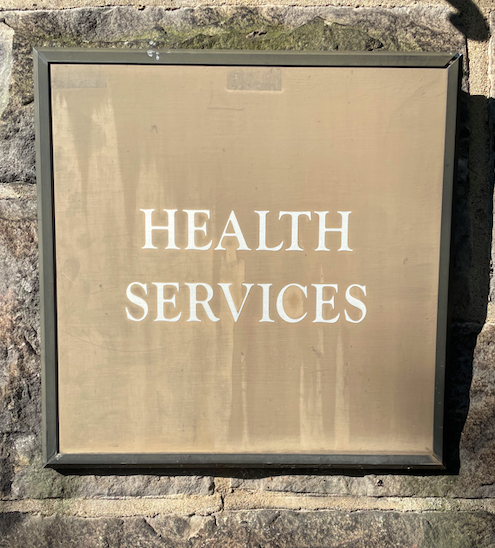 COVID-19 cases have again been on the rise as the new Delta variant has made its way to Pittsburgh. In Allegheny County, more than 200 cases per day were reported this past week, according to the Centers for Disease Control and Prevention.
Due to the concerns over the COVID-19 pandemic and the rising Delta variant, Chatham has been preparing for if a breakout were to occur, according to assistant Dean of Students Shawn McQuillan-Krepps. 
There are multiple courses of action being considered. If an outbreak were to occur, Chatham would monitor the case count to find any trends. If a true outbreak is identified, University officials may propose that classes move to virtual instruction for two weeks, rescind the guest policy or issue a shelter-in-place order.
University policy on being a close-contact changes depending on the individual's vaccination status. 
For those who are vaccinated and identified as a close contact, they wouldn't need to be quarantined — unless they test positive — but would be required to closely monitor their health for three to five days after exposure.
If the close contact is unvaccinated, they will be required to quarantine for the two-week period. Chatham still has designated isolation spaces on campus for unvaccinated individuals. 
According to Chatham's COVID dashboard, as of Oct. 3, 92% of the Chatham community has received a COVID-19 vaccine.
Each week, residence life faculty members from several universities, including Chatham, Carnegie Mellon University and the University of Pittsburgh, meet with Allegheny County officials and the Allegheny County Health Department to keep up to date with COVID-19 protocols.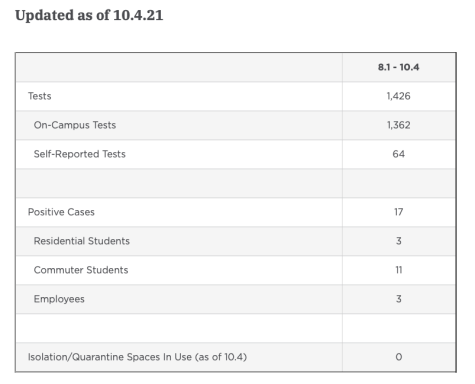 The purpose of these meetings is to help keep university officials  from across the region updated on regulations and suggestions from the Allegheny County Health Department and CDC.
"[These meetings are] not anything to be concerned about. [We are] just keeping it monitored," McQuillan-Krepps said. "Everything is subject to change."
For the unvaccinated, according to McQuillan-Krepps, anyone who submitted a vaccine exemption is required to be tested twice a week. 
Hannah Platz, an employee for Health Services, said that the vaccine exemption process was simple and could be completed via Med+Proctor, Chatham's immunization verification platform.
Those wishing to file a vaccine exemption would need to fill out a form explaining why they were asking for a waiver, submit it and then wait for approval or denial.
People could ask for an exemption for religious, medical or other reasons. 
If students provide information that receiving the vaccine would be against a belief they hold in their religion, they can be granted a religious exemption. 
If filing for a medical exemption, people must have a doctor's note explaining why they can't receive the vaccine.
The "other" reason is on a case-by-case basis. There is a small group that looks over the file together to determine if the waiver is approved or declined.
"We won't decline it at first," Platz said. "We would go to the student and ask them why they want this exemption."
While the process is easy, not many from the Chatham community applied for an exemption. However, data is still being updated to determine the actual unvaccinated percentage.
"
"We're even more on top of [COVID-19] than we have been in the past and we're prepped and ready for this year.""
— Shawn McQuillan-Krepps, Assistant Dean of Students
If an unvaccinated student refuses to be tested, that is in violation of Chatham's Honor Code. These students are referred to McQuillan-Krepps, and they are subject to interim suspension from the University. This means they are unable to attend any in-person classes or activities until they comply with the University's COVID-19 requests.
"It shouldn't come as a surprise. We made it very public that no one was allowed to move in without the vaccine or the waiver," McQuillan-Krepps said.
Likewise, if staff members do not get tested, they go through Human Resources and may face discipline there.
The CDC recommends COVID-19 vaccines as the Delta variant is more transmissible and might cause more severe illness than previous variants in those who are unvaccinated. However, fully vaccinated people can still spread the virus. 
Per CDC recommendations, "everyone who is able, including fully vaccinated people, should wear masks in public indoor places, in areas of substantial or high transmission."
"We learned a lot from last year. No one came in with a playbook," McQuillan-Krepps said. "We're even more on top of it than we have been in the past, and we're prepped and ready for this year."