Senior Spotlight: Long distance runner Rebecca Pennington
Rebecca Pennington '22 is a unique three-sport athlete here at Chatham. The Petrolia, Pennsylvania native is currently in her cross country season and is enthusiastic about the upcoming indoor and outdoor track seasons.   
Pennington got into running when she began her cross country career in seventh grade, following in the footsteps of her father. This will be Pennington's 12th year of cross country and her 10th doing track.
Pennington finished eighth at the President's Athletic Conference (PAC) Preview on Sept. 10. She missed the most recent meet due to an ongoing injury she's been coping with for more than a year now.  
Pennington is striving to "get back to something normal." Her lingering injury can leave her with the inability to walk on some days. Understandably so, Pennington has not been able to run like her normal self.   
Having qualified for the NCAA Cross Country National Championships during her first year as a Cougar, Pennington is seeking to be able to run freely again.  
Long-distance is the race of choice for Pennington. For both indoor and outdoor track, she runs in a plethora of races.
"I prefer to run longer. [It's] just how I run." 
Each race Pennington runs is completely different, both physically and mentally.  When she runs her shorter events in track, Pennington focuses more on speed and making sure to not go at a steady pace. While for her preferred longer races, Pennington can use her endurance to her advantage.
Pennington competes in multiple events spanning from 800 meters for track to 10,000 meters for cross country. Her ability to be versatile is one of Pennington's best attributes. Before her injury, Pennington was dominating at the Division 3 level. She won both the 3,000 and 5,000-meter races at the PAC Indoor Championships, as well as the 5,000 and 10,000 races at the PAC Outdoor Championship as a first-year student. Pennington has won several other races during her career, both for track and cross country.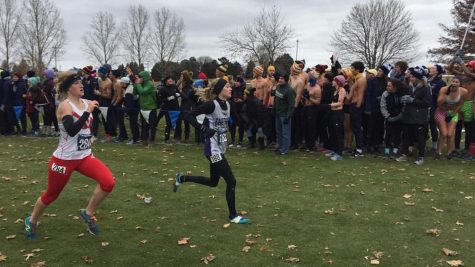 Like many students on campus, Pennington was in awe of Chatham's beauty.   
"I just really liked the location of campus," Pennington said.  
After her time at Chatham, the exercise science major wants to continue her education by getting her master's degree. While receiving her education, Pennington wants to still be involved in the sports she loves.  
"I want to coach college cross country and track," said Pennington. She eventually wants to work her way up to coaching at the Division 1 level.  
Be sure to catch women's cross country in action at the Eden Hall campus course on Oct. 30 for the PAC Championships.