Movie suggestions to watch for Halloween: 'Halloween Kills' (2021)
I have never been a big fan of horror movies — not because I get scared easily or anything. They just aren't my type of movie.
Last Halloween, I went and saw "Halloween" (2018) on Chatham's campus, dressed as Batman. I was surprised that I actually liked the movie.
I think I like horror movies when, by the end, the murderer or monster is defeated. I was kind of excited when I learned that "Halloween" was a part of a reboot trilogy, with "Halloween Kills" (2021) and "Halloween Ends" (2022). 
"Halloween Kills" follows Laurie Strode (Jamie Lee Curtis), who was the main character in the original "Halloween" (1978), Michael Myers (James Jude Courtney), Laurie's daughter Karen (Judy Greer) and granddaughter Allyson (Andi Matichak). After Laurie tried (and failed) to kill Michael in the last movie, this time the town of Haddonfield starts to band together to hunt down and kill him. 
The first thing I have to say about this movie is that the human characters are a little stupid. Myers is basically just a normal human with average fighting, who can get hurt a lot. So you would think that a couple groups of four to five people — all with weapons — could kill him. But no, he is pretty invincible.
Additionally, despite Myers only having a kitchen knife, almost everyone tries to fight him hand to hand.  You want yell at the screen, "Just use a gun!"  It's like when people try to shoot Superman. What are you thinking? Which leads to one of my problems with the movie — the characters are so stupid that I had a hard time caring about any of them.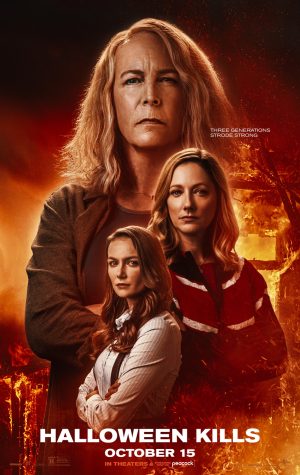 Some other small complaints I have about this film have to do with some missed opportunities. Curtis' character is in a hospital bed for almost the entire movie, despite being one of the best parts of the last movie. Also, this movie is missing a main character to tie the story together. There are several characters who feel like they could be the focus character, but they are either killed, lay in a bed the whole movie or aren't present enough. It can sometimes feel like a mess with too many storylines happening at the same time. To compare, "Avengers: Infinity War " has many storylines and characters, but it seems grounded.
I personally didn't enjoy this as much as I had hoped, but with that said, if you are looking for a scary movie and enjoy watching increasingly violent murders, this film is for you. This movie also ends on a cliffhanger, setting up "Halloween Ends" to release next year. It's a messy ending that still makes me want to see the final installment of the trilogy in 2022. Perhaps I still want to see it because the series will be wrapped up, and I'll feel resolved with the murderer defeated (most likely). 
Ultimately, I'm holding out hope for the "Halloween" trilogy and suggest you sit down to watch this horror movie with your friends this Halloween season for some silly fun.