Senior Spotlight: Emily Richie helps create a healthy volleyball culture
Chatham University's women's volleyball fans have seen this past fall the team's best regular season performance in four years. Seeing steady improvement over the past few seasons, the Lady Cougars have earned their first winning regular season since 2017.
Senior outside hitter Emily Richie credits this success to the team's dedication to the game and building a healthy culture around the program.
"We've definitely become a much more competitive team. Especially this year we've been doing really well," Richie said. "It's because we have players that want to be there and want to be out on the court. The culture has definitely changed a lot since my freshman year."
Richie has been part of Chatham's volleyball program for four years. Having played the sport since middle school, she has a deep love for the game. 
"Volleyball is something I use as an outlet," Richie said. "If I've had a long week, I know that I have volleyball where I can have fun and just be with my teammates for a few hours."
The program has seen a lot of success this season. With Richie being the longest standing player on the team, she has enjoyed seeing her teammates succeed and being with them throughout the journey.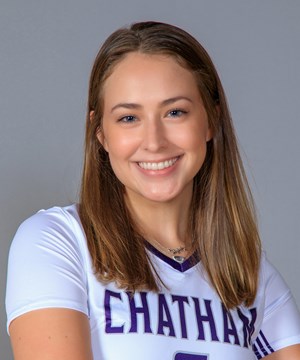 "Being one of the only seniors this year, I feel like I have a lot of people looking up to me and playing on the team for so long, it's been a really rewarding experience," Richie said. "I love being with my team. It's a lot of fun."
Richie has lived near Pittsburgh her entire life. However, with her hometown being only a 30-minute drive from campus, she never knew Chatham existed until her senior year of high school. The previous Chatham volleyball coach recruited Richie during her club season. After visiting Chatham, she decided it was the perfect fit.
Richie is a sustainability major with a focus on renewable energy systems and urban planning. She also has a minor in interior architecture. Richie wants to combine the two subjects and explore sustainable design in the future. She hopes to be able to stay in the city for grad school.
"I just love Pittsburgh. It's so small and such a great community," Richie said.
Richie and the Chatham women's volleyball team made history this season as they competed in the semi-finals of PAC playoffs for the first time in the program's existence.